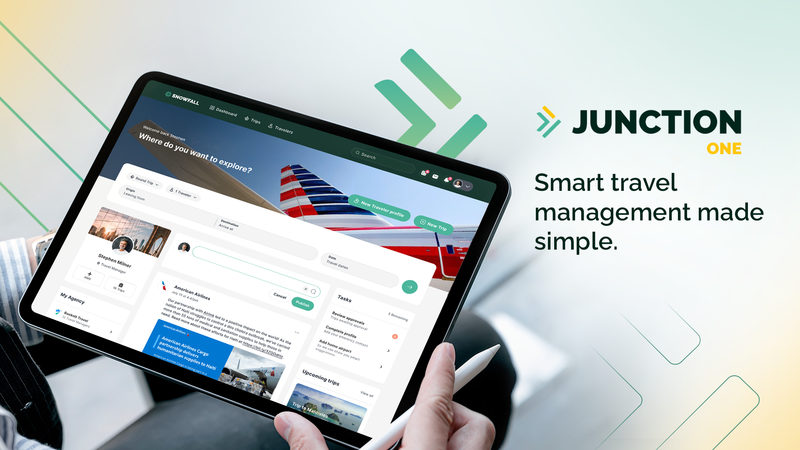 Agents back Snowfall's Junction technology for next-generation multi-modal travel content booking solution
Notable partners have already onboarded the Junction One solution
Snowfall, a leading travel technology company, has launched Junction One, a next-generation digital booking solution enabling TMCs, agents and corporates to book multimodal travel content.
Junction One is designed to provide a gateway for TMCs and corporates to provide business travellers and travel bookers with access to Snowfall's multimodal travel platform, Junction.
It leverages the consumer-grade digital booking and trip management technology of PSNGR1, which Snowfall announced it was acquiring in 2022, with the extensive multimodal content, first-to-last mile traveller experience, and innovative traveller assistance and disruption management functionality of Junction.
A cloud-based open API system, Junction offers travel agents the ability to book end-to-end multimodal travel - not only air, hotel and rail travel, but also ferry, public transport, ride hailing and shared mobility - from multiple suppliers in a single booking.
The integration of Junction One as part of the wider Junction product ecosystem allows for automated, real-time traveller assistance and disruption management through Snowfall's Junction Plus technology, and enterprise-level FX and complete treasury management via its B2B payments solution, Junction Pay.
Stefan Cars, chief executive and founder of Snowfall, says: "At Snowfall our mission is to revolutionise the way business and leisure travel are marketed with technology that enables rather than restricts how sellers want to retail and buyers want to shop.
"As millennials, Gen-Z and Alpha become the dominant consumer segments, underlying legacy technology systems restrict the travel industry's ability to keep pace with their evolving expectations.
"This generational shift is also driving a growing appetite among business and leisure travellers for more sustainable multimodal forms of travel, and seamless tech to book all those options in one place.
"We are therefore excited to have brought Junction One to the market, blending the best features of PSNGR1's next generation booking tool with our ground-breaking multimodal global distribution ecosystem Junction, the largest end-to-end travel marketplace. We are delighted to be working closely with several TMCs to give travellers seamless access to a new era of digital travel booking experience," concludes Cars.
TakeTwo is one of Snowfall's key TMC partners using Junction One to access Junction's end-to-end multimodal content and advanced features.
The global boutique TMC, which has offices in the UK, Europe and the USA is integrating Junction One into its Nova eco-system of agnostic travel management solutions.
Rob Cope, chief technology officer at TakeTwo, commented, "TakeTwo is delighted to have Junction One embedded into our poweredbyNova tech stack. The ability to offer our customers a multimodal booking experience is transformative for helping address the frictions found in booking corporate travel.
"The ability to incorporate NDC content within the TripBoards feature also enables us to deliver a more collaborative and personalised booking experience, leveraging content across the breadth of the content supply chain."