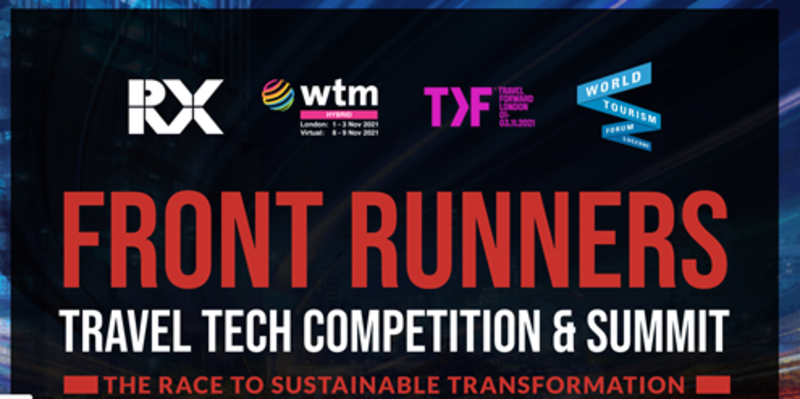 WTM's Travel Forward issues last call for Front Runners start-up competition
Nine finalists will pitch to win in November at World Tourism Forum Lucerne summit
World Travel Market has issued a final call for entries for its Front Runners travel start-up competition being run by its technology arm Travel Forward.
Organisers say the competition has already attracted 350 entries from 80 countries ahead of the deadline on August 26.
WTM London, Travel Forward and World Tourism Forum Lucerne (WTFL) have joined forces to find start-ups who are on a mission to revolutionise the industry.
The competition wants to hear from firms that "innovate for an impact, are tech-driven, with a purpose to drive sustainable development and good practices".
Nine start-ups will be shortlisted across three categories to be promoted to WTM and Travel Forward exhibitors and attendees.
The three categories are:
Smart Mobility:  Transforming mobility to be equitable, efficient, safe and responsible
Hospitality of the Future: Exceeding guest expectations and balancing the needs of the local communities
Experiences Revolution: Revolutionising our daily experiences on the road and back home
Simon Press, exhibition director at WTM London and Travel Forward, said: "We've been thrilled with the amount of interest in this competition, which brings together WTM London's destinations, Travel Forward's tech audience and the WTFL's gravitas to drive positive change and bring tangible value to the industry.
"We don't want anyone to miss out on this spectacular opportunity to showcase innovation to the world, so this is our final call for applications."
The WTFL Front Runners Travel Tech Summit will take place on November 2 during WTM London and Travel Forward physical shows at Excel London.
This will see the finalists pitch to an international judging panel and audience of investors, industry leaders and innovators.
Those making the shortlist will be flown to London, with flights and accommodation paid for.
They will also get an exhibitor's space and the chance to benefit from networking and B2B meetings.
WTFL is a non-profit Swiss-based institution that brings together decision-makers from industry, government, academia, young university graduates and start-ups.
It runs start-up camps that drive and support innovation in tourism and it has developed a Dealflow tool solution that connects start-ups to potential investors.
In addition to the benefits listed above, shortlisted innovators will also be added to the exclusive WTFL Dealflow Tool, instantly enabling them to be visible to top investors.
Martin Barth, president and chief executive of WTFL, said: "There is a natural synergy for innovative tech start-ups with WTM London and Travel Forward's established global audience of destination – and tourism-centric exhibitors, buyers and suppliers.
"We're confident that Front Runners will offer an exclusive platform for early-stage start-ups to be put in the spotlight and get traction for their solutions.
"The sustainable focus of the competition also resonates with the end customer and the global investment community, which is currently seeing strong returns and multiples on enterprise start-up plays."