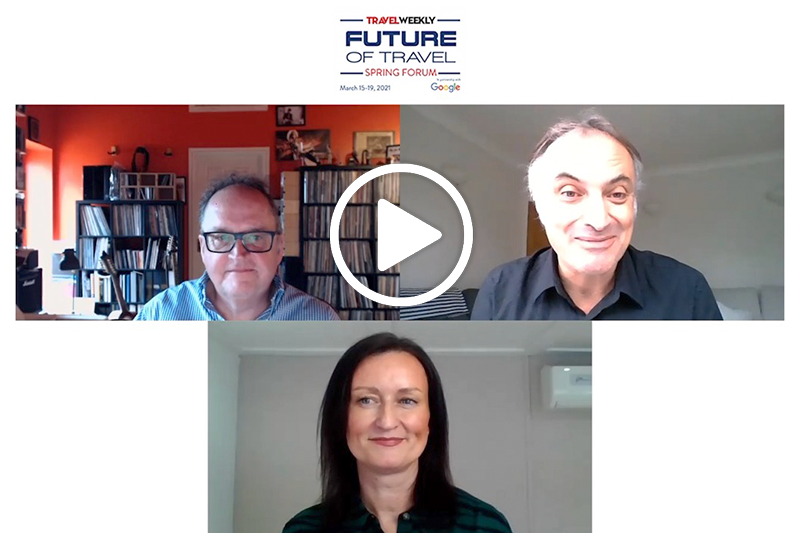 Using tech to track trends is vital to a successful recovery
Salesforce and Kaptio discuss how COVID-19 is seeing firms reassess their digital needs
Salesforce and Kaptio discuss how COVID-19 is seeing firms reassess their digital needs
Uncertainty in the travel sector is seeing travel firms looking to keep on top of fast-moving trends turn to technology for answers, according to one of the world's tech giants.
Salesforce, headline sponsor of this week's The Future of Travel Spring Forum, hosted by Travolution sister title Travel Weekly, said it is seeing more clients striving to build stronger direct relationships with customers.
Rachel Kenny, UK senior regional vice president for travel, transport and hospitality, said understanding customers will be vital to ensure firms have a successful recovery.
"While some customers can't wait to travel, we're all aware of those that are a little bit more hesitant.
"So, understanding customers and reaching out to them at the right time with relevant offers will be really critical to having a successful recovery."
Salesforce is talking to travel firms that benefitted from last year's boom in domestic travel who want to retain those customers for this year while the prospects for overseas travel remain unclear.
"The other thing that's quite common in conversations now is how travel companies are going to rebuild their businesses quickly, how are they going to recover.
"How are they going to respond to spikes in bookings or customer service demands at back end of this year.
"And how do they do that without compromising customer experience and not increasing costs or certainly not in a way that's not sustainable."
Jon Pickles, chief operating officer at Kaptio Travel, a travel technology supplier and Salesforce partners, said firms are having to balance the need to bring people back from furlough and incurring costs.
"One thing that's come out of lockdown is a lot of companies are having to reassess their costs, and the number of systems that they have to support.
"People have been talking about digital transformation, but it's always difficult when you're busy to do it because it is disruptive on your entire business.
"Now, everybody's thinking this is expensive. We've wound down the number of users, we've got all these systems, what are we going to do about it? How are we going to grow and pivot?
Pickles said one positive impact of the pandemic for travel agents is consumers are looking for a lot more advice and reassurance, but firms must be ready to service this.
"When demand comes back…a lot of people are reassessing their lives and thinking we want to go on that trip of a lifetime, maybe we'll do it sooner than later.
"And that's going to need a lot of hand holding. They'll want reassurance that wherever they're going is safe.
"They'll want to know if they can cancel their booking even if they're quite far down the track with it. Can they change the booking if a particular destination is higher risk than somewhere else.
"Coupled with that, you need to start having this one-to-one conversation with your customer.
"Travel agents are going to be in more demand I believe because they can have those conversations with a travel agent you can't always have online.
"And providing a tool where you can communicate with your customers using whatever means they want to use, whether it's social, email, voice, whatever it is, is going to be really important."
Kenny said technology will not only enable brands to engage more productively with clients, but to respond to events which they can't predict or prevent.
"One of the things that the pandemic really has taught us is that we're always going to be at risk from external events.
"It's how fast we can move and how agile we can be to respond that will deem whether we're successful or not.
"When we look at travel companies and at digital transformation it's about how fast they can respond to the latest trends.
"How can they experiment with new approaches, how can they look at where that demand is, how can they really get a good feel for what's happening within their customer base.
"Digital technologies that gather customer and operational data play a key role in helping companies make sense of what's happening and gives them a way of evaluating different experiments."
Kenny added that firms must look to automate common processes to manage costs and free up time for staff to have valuable conversations with customers they know and understand.
"The value of data cannot be underestimated. We've certainly seen a big uptake in customers having the need for better analytics around their customer databases.
"What that's doing is helping them with the early signs of demand recovery and any emerging demand trends.
"Things are so reactive at the moment. If you miss out on those trends, straightaway your competitors are going to take advantage instead."