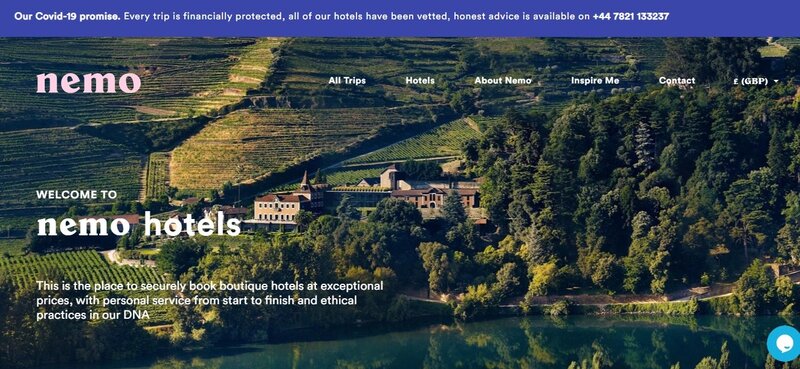 Planning platform nemo announces COVID-19 pivot with boutique OTA launch
Handpicked properties in Portugal offered initially before expansion in UK and Europe
UK travel planning platform nemo has reacted to the COVID-19 crisis by developing and launching a new bespoke OTA offering curated product.
The firm said the online agency nemo hotels addresses the concern and uncertainties surrounding travel during the pandemic.
Nemo has launched initially with 20 boutique properties in Portugal, which has come off the UK's list of countries visitors must go into two week's quarantine after returning.
Nemo's travel panning platform went live only last September but the firm says it used the coronavirus lockdown to develop a new arm of the business.
Tom Harding, co-founder of nemo, said: "Nemo hotels has been built as a direct response to the pandemic.
"Whilst it was a real shame to have our early momentum halted, the fact we are such a young company has meant we could pivot quickly, whilst still looking after our current travellers.
"Never before have digital-first, bespoke and flexible services been so relevant as people struggle to book with any confidence."
Nemo hotels says it believes Portugal is now ready to welcome a new type of traveller that seeks a deeper experience.
Following the launch of Portugal, nemo hotels plans to expand into Europe, starting with the UK to focus on the growing market for staycations.
Harding added: "There is no denying that the current situation is a bit of a maze for travellers.
"Our goal is to work with them to solve this, working with handpicked boutique hotels and bespoke guides that we know are ready for the new era of travel.
"Portugal felt like the perfect place to start given the incredible variety of authentic product available."
To help ensure confidence when travelling, nemo hotels offers flexible cancellation policies and deposits to secure a booking.
The OTA also offers an individual 'covid-policy' for every hotel to ensure that bookers understand the necessary details of each property before they make a decision.
To ensure full peace of mind while travellers are on the ground, the firm will also assist with selecting the right travel insurance for every booking based on the type of trip, the destination and traveller's interests.
Clients are offered a 24/7 concierge service and post-booking app to manage amendments.
Each property has been hand-picked by nemo and promises dynamic, best available rates, meaning if hotels lower their rates online, travellers also benefit.