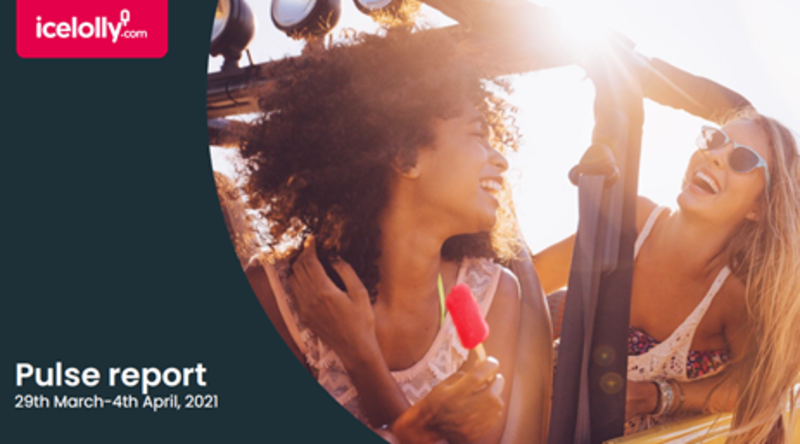 Icelolly.com Pulse: Short-term focus on domestic as travel uncertainty continues
Latest search and booking trends from holiday comparison site to April 4
UK holidaymakers are increasingly focussing on domestic breaks for this year amid ongoing uncertainty about the restart of international travel.
The latest icelolly.com Pulse report came ahead of news of a planned traffic light system for travel after May 17 that will determine where people can travel to and under what rules.
In the week to April 4 saw 2021 months dominate the top five most popular for people searching, but bookings continue to over-index for 2022.
August 2022 and October 2021 departures saw the biggest share gain while August and September 2021 searches also saw a share growth.
May and June 2022 searches fell, but there was an increase in July 2022 suggesting focus for next year is moving to later summer.
For domestic trips, there was a big search share gain for the 15-30 days window. The biggest peak in this period was for April 15-21, which accounted for 15% of overall searches.
Searches beyond April 2022 have dropped off, suggesting a 2021 focus for UK breaks.
Chris Webber, head of travel deals at icelolly.com, said: "Searches and bookings remained consistent week on week and it will be interesting to see how a lack of real clarity on a restart date will impact people's holiday plans.
"Will the suggestion that the road map will continue as planned give some more people the confidence to book, or will there still be a reticence without a real confirmation in the announcement?
"Bookings for overseas holidays are over-indexing for S22 versus the search volume, with a close-to-even split between S21 and S22 (with a small volume of W21).
"UK searches are increasingly focusing in on the immediate aftermath of 12th April, though that June-September 2021 summer period is still the most-searched."
In terms of overseas destinations Malta was the big share gainer in the top 10 last week, with an increase in share of more than 100%.
Outside the top ten, Kos, Maldives and Barbados all had search share gains above 80%.
Algarve's share fell by around one-third – the biggest drop of any destination in the top 40 most-searched.
Among UK destinations, North Yorkshire, Devon and Norfolk recorded increased share although Cornwall still dominating.
Generic country-level search share fell around 15%, but there was growth for Scotland and Wales.