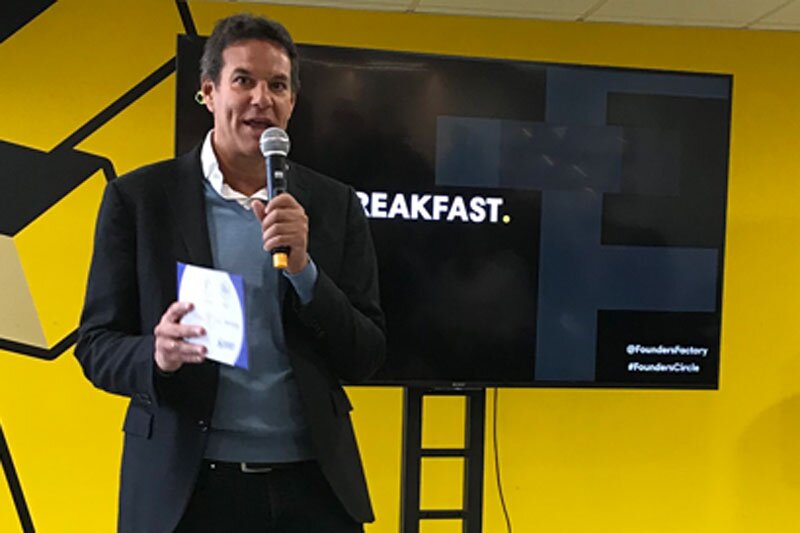 Hoberman: 'Twenty years after founding lastminute.com travel is still trying to do simple things'
The travel industry is still trying to achieve things today that dot com travel pioneer lastminute.com set out to do 20 years ago, according to its founder Brent Hoberman.
Addressing a room of start-ups, investors and entrepreneurs at a Founders Factory travel breakfast in London this week, Hoberman said it was "shocking" that many "simple things" remain on the to do list.
Hoberman, who established the Founders Factory start-up accelerator in 2015, recalled a presentation he gave while at lastminute.com in 2000 which set out a vision for personalisation and understanding customers.
"What we talked about back then still has not been done. And that was just the simple things. Personalisation has not really come to travel," he said.
Hoberman highlighted the ability to provide users with broad query-based search so they could find what they were looking for without having to stipulate what they want that, even with the help of artificial intelligence, "still does not happen".
He said lastminute.com's ambition was to know so much about the leisure habits of its customers that it would know exactly what they should do when visiting a new destination or city. "There are lots of people still trying to solve these problems," he said.
Hoberman cited Culture Trip, which he said has raised an "insane" amount of money, as one of the latest firms trying to achieve this with a "different take on travel content".
And he picked out other areas like group booking, access to product, frictionless payments and inventory caching that still seem to be issues in the sector today.
"We think there's lots of innovation to come. There is still lots of friction in this industry and not enough Amazon-like consumer delight. We hope we will help more of you to do that," Hoberman said.
The Founders Factory has invested in 65 start-ups and built a further 20 from scratch and works with corporate partners like Marks & Spencer, Loreal, Aviva, The Guardian and easyJet in travel.
Hoberman said at lastminute.com he realised early on that it made sense to work with corporates, even though it was not "fashionable" at the time. One of the key reasons was access to supply.
"BA had, pre-easyJet, 60% market share. If we did not get BA were sort of dead. It was about how to work out how to use that competition among corporates," he said.
Lastminute.com did this by offering airlines shares in the company if they hit a certain market share on its site. In the end none did, although they tried and the competition to do so meant the OTA benefitted.
Hoberman said lastminute.com also benefitted from a deal with BAA, the then monopoly UK airport operator, which saw its name plastered over every new development like automatic sliding doors or security trays. "We spent nothing on advertising, but most people thought we owned the airports."
And he recalled how he bought the URL priceline.co.uk before the US giant, which spawned booking.com, came to the UK. "When they called I said I just want to talk to you guys. They ended up buying the domain off us and investing £5 million. It ended up being a good domain name purchase."
Hoberman told the start-ups that the Founders Factory wanted to give entrepreneurs "the scale and credibility that corporates can offer".
"Even when lastminute was 200 people it was very hard to innovate. The market wanted us to focus on cost cutting so we focussed on ROI which is a terrible, terrible thing when you are trying to do things a bit innovatively. It was very hard to break out and innovate.
"The marriage of putting together entrepreneurs, who can afford to fail, and corporates, who can't, really made sense."
Previous successful investments the Founders Factory have made in travel include Berlin-based experiences website GetYourGuide and alternative accommodation provider OneFineStay, which was bought by Accor for $170 million in 2016.