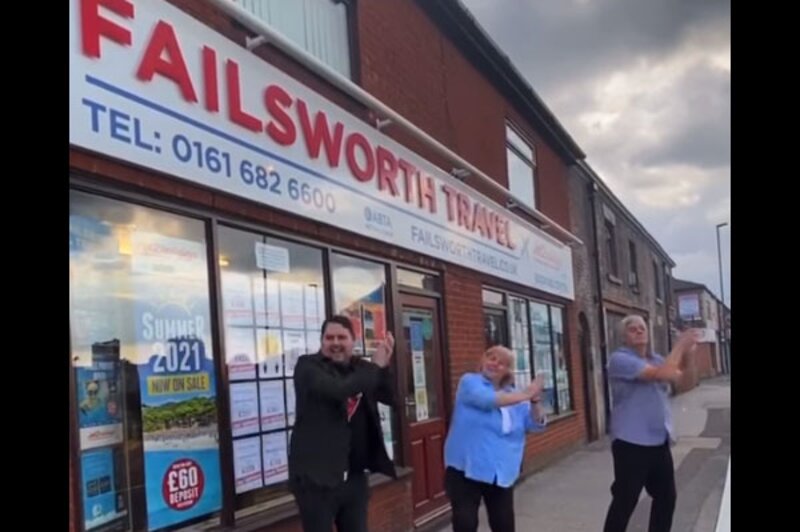 High street travel agency celebrates store reopening with Facebook video
The video was filmed on Sunday ahead of the shop opening its doors
The team at Failsworth Travel were "so enthused" about reopening their shop that staff created a video showing them prepping for the big day.
The video, which was shared on the Oldham agency's Facebook page, was filmed on Sunday ahead of the shop opening its doors yesterday (Monday). It features Bernice Brook, her partner and two sons carrying out the final preparations for reopening, set to the song Light At the End of the Tunnel in Starlight Express.
Owner Bernice Brooks told Travel Weekly the response had been "absolutely fabulous" and said many clients had commented on the video.
---
---
"We've now reopened but we've been in the office throughout the lockdown. We got so enthused about reopening that we filmed the video. We thought it would make people smile.
"The response has been absolutely fabulous, and everyone's comments about the video have been brilliant. The song was what inspired us to film the video – the message of the light at the end of the tunnel, it's just brilliant. The video is a bit of inspiration and we hope it makes people feel good.
"We've had clients come in yesterday and today and we've been taking bookings for the US, Thailand and the Mediterranean.
"It's been lovely seeing clients again – we've been here in the community for many years, so people have been sticking their heads through the door to ask how we are and that they'll be back soon to book."
To encourage engagement, the agency is offering a £150 travel voucher. To be in with a chance of winning, clients are being asked to like and share the post, tag their travel partner and like the agency's page.
The agency has reopened on reduced hours, but clients have been made aware they can contact the team at any time, Brooks said.
Asked about the measures the agency has taken, she added: "We've got screens up – we made those ourselves, and we've got the hand sanitiser and bacterial wipes on the counter tops. We are lucky that we have quite a big office so social distancing isn't too difficult for us."