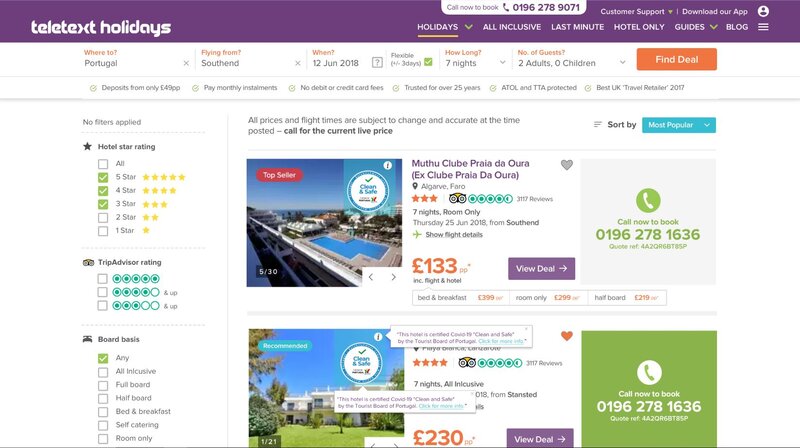 Coronavirus: Teletext Holidays calls for wider use of hotel health and safety schemes
The OTA has adopted Portugal's recently launched 'Clean and Safe' regime
Online travel agent Teletext Holidays has urged all destinations to emulate a new Clean and Safe scheme launched by Portugal to reassure customers concerned about COVID-19.
The OTA has adopted the Clean and Safe stamp of approval that it will display against results for hotels in Portugal that have been granted the accreditation.
It said such schemes increase consumer confidence in hotels that they have achieved set standards,
The Clean and Safe accreditation has been implemented by Turismo de Portugal to highlight establishments which meet hygiene requirements and cleaning measures as it looks to promote Portugal as a safe destination.
Wayne Perks, managing director of Teletext Holidays, said: "Many of our customers face uncertainty when considering which hotels and destinations they deem safe to travel to, and so do require that extra reassurance.
"We firmly believe that the way forward in the current environment is through schemes such as the Portuguese Clean and Safe standard, which is working to provide holidaymakers with confidence in their booking.
"We have seen some of the larger hotel chains across Europe and further afield implement their own standards however, this could be detrimental for smaller independent hotels which may lose market share as a result, despite having also taken measures to protect customers.
"It's important for governments to coordinate a consistent approach and standards, to vitally improve the speed of recovery for the industry and regain consumer confidence, all while ensuring that smaller hotels are not disadvantaged."
To go further in providing clarity for customers, Teletext Holidays has launched a digital information hub called The Reopening.
This details the current state of affairs in key long-haul and short-haul destinations, enabling consumers to make an informed decision about whether and when to travel.