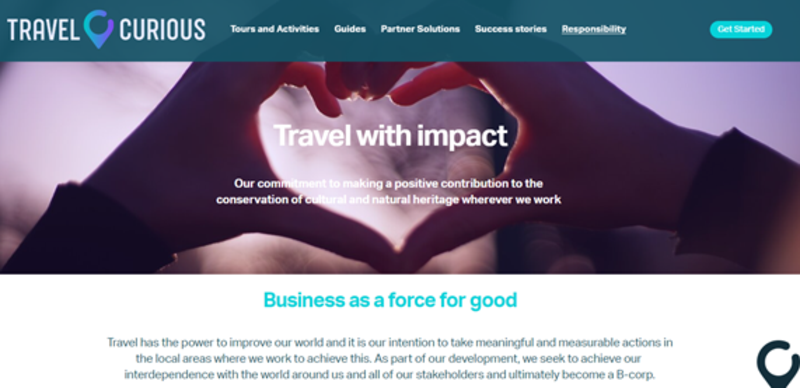 Start-up Travel Curious prepares for $7m Series A funding bid
New branding revealed, chairman named and commitment to social and environmental impact
Tours and activities specialist Travel Curious has made a series of announcements as it gears up to secure a Series A investment.
The start-up has unveiled new branding, named a chairman and issued a new commitment to Corporate Social Responsibility (CSR).
Former JacTravel chief executive Mario Bodini comes in as chairman of the board of directors to steer the firm towards a Series A targeting up to $7 million.
This investment will be used to "scale operations to deliver instantly bookable tours and activities as a service worldwide", the firm said.
And it added its rebrand "better encapsulates the essence of its cultural private tours and bespoke experiences, and a commitment to measure its impact on people and the planet".
The new branding features a stylised 'C' map pin and the tagline #HereToExplore, to position the brand as being "curious, creative and modern".
Travel Curious curates and sells its own branded and whitelabelled tours and has so far created a portfolio of 600 plus tours in 70+ cities worldwide.
Bodini said: "We've seen growth and investment in the tours and activities sector for a couple of years now, but predominantly in marketplaces.
"Travel Curious is a great challenger company, reinvigorating the private tours market to create, operate and distribute quality immersive experiences on a free sale basis.
"It really expands the offer for traditional travel agents, travel suppliers and hospitality partners looking to provide complete travel experiences while benefiting from additional revenue.
"The fact that Travel Curious' owns all of their own tours really appealed to me and I'm delighted to be working with such a strong and dynamic team."
Amir Azulay, co-founder and chief executive of Travel Curious, added: "It's an honour to have Mario chairing our board, his long and illustrious career in travel, particularly his exceptional leadership at JacTravel, speaks for itself.
"His experience, commercial acumen and industry connections at the very highest levels will enable Travel Curious to move forward with focus and precision at this very important stage as we prepare to grow and scale the company."
Initially a self-funded business, Travel Curious has gone through three rounds of investment since 2018, securing $1.6m from independent investors.
The firm says it has spent the last two years developing its distribution with travel suppliers, securing over 60 industry partnerships including leading travel brands TUI Musement, Marriott Hotels, Preferred Hotels and Resorts, and Small Leading Hotels of the World.
During the first COVID-19 lockdown the service provider diversified into Virtual Tourswhile people were unable to travel.
Azulay said: "We have huge plans for Travel Curious to become the world's leading tours and activities service provider to traditional travel and hospitality companies.
"We have a deep passion for immersive, cultural travel experiences, offering something authentic yet instantly bookable.
"Our proprietary booking and distribution technology together with our highly experienced network of guides and exceptional partners, allow us to offer their customers a new style of travelling with our private tours and the way we sell them.
"Investors are not only buying into a growing global brand, but one which is ethical and sustainable."
Travel Curious has committed to "balance profit and purpose" and is in the process of certifying as a B-corp company to measure its company carbon footprint as well as that of each individual tour or activity.
It aims to remove carbon from the atmosphere for every step taken on a tour. The company places an emphasis on selecting local tour guides and partners who align with its social mission and have a positive impact on local communities.