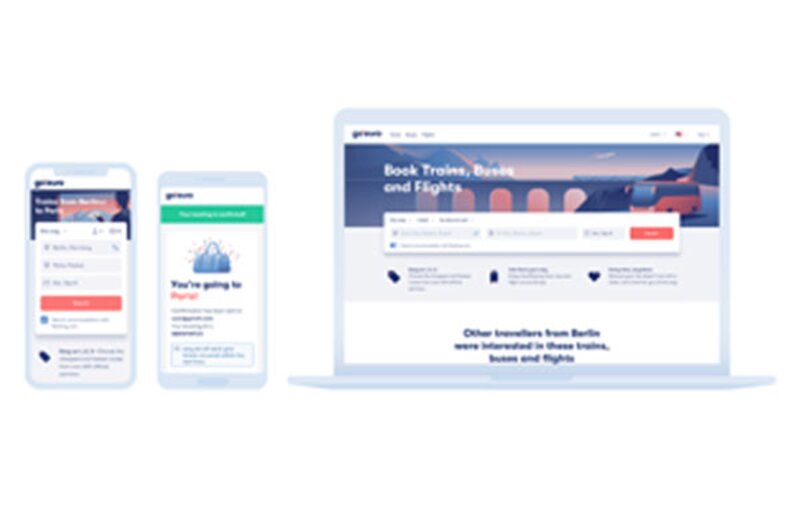 GoEuro unveils re-brand and adds ferries and direct booking for airlines
Leading European multi-modal travel booking platform GoEuro has unveiled a new look, and entry into the ferries market and integrating air onsite.
Following its recent announcement of $150 million funding, the travel-tech company will roll out the new brand to consumers across Europe over the coming month.
GoEuro said the new identity has been designed to be calm and comforting for the user, helping reduce confusion and take the stress out of travel planning and booking.
it added it will support GoEuro's growth and plans for innovative features to come.
Entry in to the ferry market means GoEuro users will be able to search and book tickets as easily as any other travel mode.
The firm said it brings the company a step closer to "unifying travel across the continent".
GoEuro said the ferry sector's relatively recent entry into the digital world creates an opportunity for it to improve the booking experience for consumers and help operators take advantage of future trends in travel distribution.
With a focus on the Mediterranean, GoEuro has been testing the product for destinations in Italy, including Amalfi-Positano and Naples-Ischia via ferry providers SNAV and Travelmar. The beta will be rolled out more widely, and in more markets, into 2019.
Longer-term GoEuro plans to connect ferry legs with other parts of the journey to create true end-to-end booking for consumers.
GoEuro also announced it has now integrated onsite booking for hundreds of airlines, enabling consumers to book flights directly on GoEuro and compare options against other travel modes in one place.
The company had already transitioned from a metasearch model by integrating most ground transportation to booking onsite, but previously users had to be redirected to a third party for flight.
Naren Shaam, chief executive and founder of GoEuro, said: "The changes we're announcing today – from an exciting new brand through to new modes of transportation – represent a big moment for GoEuro and a major step towards a more complete experience for our millions of users.
"We want to make travel booking seamless and provide reassurance, no matter where customers want to go, or how.
"Bringing more modes into one place, with mobile ticketing as default, and a smooth user experience, is much closer to our vision of the future of travel. Our new brand identity is designed to resonate well with our customers, and reaffirm our commitment to making their travel easier."
Ignazio Moresco, head of design, added: "We're thrilled to be unveiling a new brand look and feel and are extremely proud of the work that's gone into creating it.
"With this new design, we've focused on making sure our product responds to what consumers need when they're planning and booking travel, in an exciting, fresh way."