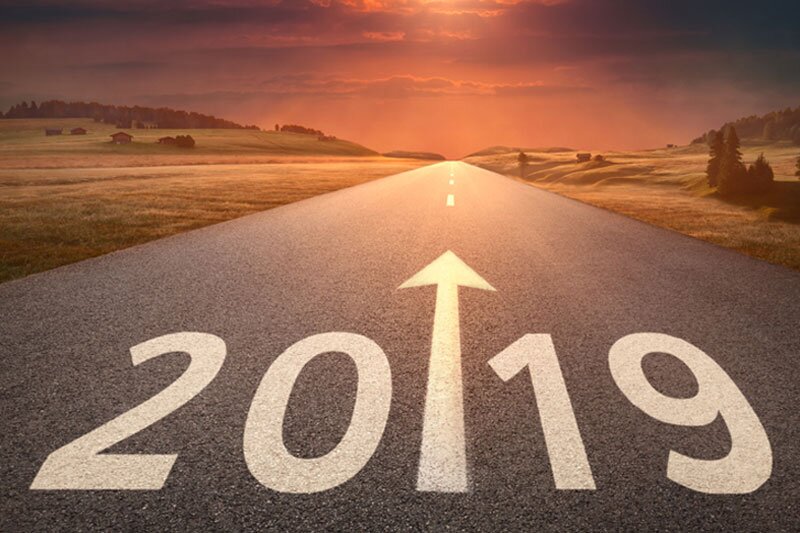 Special Report: Online travel trends to watch out for in 2019
Lee Hayhurst looks at the current trends in online travel and what 2019 is likely to bring
Twenty years ago this year a couple of friends who had met while undergraduates at Oxford University set out to change the way people bought travel and experiences forever.
Brent Hoberman and Martha Lane-Fox first introduced the British public to the vibrant pink of lastminute.com in 2008 when internet penetration in the home was at just 9%.
The British holidaymaker was, at the time, still scrolling through hundreds of pages on analogue Teletext or in travel brochures to find their perfect trip.
As another year draws to a close and we reflect on the last 12 months and look forward to 2019 it's worth reflecting on the last two momentous decades.
Speaking at a Founders Factory event for travel start-ups in October, Hoberman cited a presentation he was giving potential investors in lastminute.com in the early noughties.
"What we talked about back then still has not been done. And that was just the simple things. Personalisation has not really come to travel," he said.
Although he delivered a rather downbeat assessment of travel's ability to do what he described as "simple things", Hoberman remained positive about the sector's prospects.
"We think there's lots of innovation to come," he said. "There is still lots of friction in this industry and not enough Amazon-like consumer delight."
"Consumer delight" has certainly come to the fore as a theme in travel with firms variously talking about being customer-centric or customer-first.
At the annual Phocuswright conference in Los Angeles in November the chief executives of the world's largest travel firms repeated the same mantra of customer service and choice.
Skyscanner's Brian Dove said: "The first thing we look at is what we can serve our travellers best. If it delivers for the travellers…and adds value, we won't let anything get in our way."
His Expedia counterpart Mark Okerstrom said: "We have been focussing on doing less, doing it better and delivering a better experience for the consumer."
EDreams ODIGEO's Dana Dunne said: "We have really strong brands and that has enabled us to really work on the customer service elements of our customer proposition."
And there was the vision from Booking Holdings' Glenn Fogel of its brands becoming as good and personal with their customer service as the offline travel agent his mother used.
"The more we learn about somebody, the more we can provide that service and then it's a virtuous circle," he said.
It goes without saying that no brand in history in any sector has ever succeeded by focussing on what the customer doesn't want or on delivering a worse experience.
So, what is driving this apparently "Damascene conversion" to the virtues of giving the customer what they want?
It's the belief that technology is becoming available to do just that.
And not just the technology, but the ability to handle the vast amounts of data to achieve what Hoberman believes travel continues to fall down on – true personalisation.
The promise of cheaper and more efficient cloud computing coupled with advances in artificial intelligence and machine learning are starting to be felt in travel.
Rajat Dhawan, global CTO at The Travel Corporation, told a World Travel Market event run in partnership by Travolution and digital agency Sagittarius, that travel was catching up.
"Artificial intelligence is definitely becoming a reality. We are closing the gap between our industry and other sectors," he said.
For some, AI is over-hyped, but what's not in doubt is that the competitive landscape is shifting towards brands that deliver on the experience more so than the product itself.
Bill Gurley, general partner of Benchmark Capital, an early investor in Uber, told Phocuswright that AI will see a shift from "search and browse" to "curate and deliver".
"One of the things you can do with AI is get rid of this remarkable amount of decisions people have to make," he said.
"The playbook for search and browse was let's get as much stuff in the database as we can, but that creates the paradox of choice."
Having expressed amazement at how clunky hotel processes like checking-in still are, he said firms that focus on perfecting the end-delivery of the experience will win customer loyalty.
He said Uber Eats was stealing a march on its competitors in the food delivery sector by focussing on optimising delivery times.
It is this battle to "optimise the bottom of the funnel" where increasingly the battle lines are drawn in travel as brands recognise that offering a great experience drives repeat business.
Although this should not be a surprise to any travel brand, it is a challenge in a sector weighted down by legacy technology, complex relationships and a tendency to focus on sexy front-end developments.
Teletext Holidays chairman Steve Endacott urged online travel agents to invest in their back-office if they are to provide that delightful customer experience.
He said the customer retention this will generate will help in "controlling ever-escalating" marketing costs" and deliver "competitor advantage".
"How long before we see OTA apps offering online check-in for all low cost carriers and tracking technology to show how far away a coach is from picking up customers?
"Customers may also want to use the same app to book in-resort restaurants or attractions, using consolidated consumer reviews of other like-minded UK guests."
The impact of this race to become the chosen trusted companion of the modern, connected, mobile traveller is seeing a merging of once distinct business models.
Metasearch and search engines are becoming booking platforms, review sites like TripAdvisor are becoming social media networks, and OTAs are becoming metas.
In the UK we've even seen a pure-play OTA enter the B2B space with On The Beach's acquisition of Classic Collection.
Ultimately the travelling public is looking for the best, most relevant and easy experience and do not care if that's being provided by an agent, an operator, or a marketing platform.
Travel's focus is moving from the sheer efficiency of the transaction, which has arguably driven commoditisation up and prices down, to a more full-service value-added proposition.
But as a recent study in the US by Adobe and partner exchange marketing partner Invoca highlighted this is going to require travel as a sector to improve its 'Emotional Quotient'.
Emotion Wins: What Customers Expect in the Age of AI reports that while younger generations value an emotional relationship with brands, travel is rated behind sectors like insurance, healthcare, home service, finance and telecoms.
Travelport's latest global digital traveller survey found more than a third of customers are now using voice to research a trip indicating a high level of trust in machines.
It also found a high degree of uptake of digital wallets and significant support for allowing biometric data to be used if it means a better experience like reduced security queues.
So, while trust levels in machines and technology is high, so is the expectation that the travel brands that consumers engage are emotionally intelligent.
This year we've seen big investments in the likes of Culture Trip and Love Holidays, brands that, in their own ways, claim to get closer to customer desires and needs.
In 2019 we may start to see what a travel industry that uses technology in tandem with human intelligence to delight its customers will look like in the future.
---
Andy Owen-Jones, founder and chief executive bd4travel
At bd4travel we agree that some things in travel are still to be sorted starting off with how leisure products are presented to customers.
Holidays are still listed by price – it's a mentality we have adopted in the travel industry that needs to change.
If we keep doing this we train people to focus on price – we became the "Poundland" industry.
To get into a retailing mode we need to take an entirely different approach to how we put products in front of clients.
This has always been the case for all kinds of retailing, but travel has additional complexities.
Travel has to deal with a massive number of combinations, 365 days a year, 1,600 airports, two million hotels, and 26 booking classes.
Add to that the fact that our products expire if not bought, the buying processes is complex and prices change in real time.
There are too many complexities to drive personalisation using business rules alone.
But with AI and Machine Learning we can take a new approach, by understanding and inferring causation and correlation.
While we are still in early days there are a number of things we can say for certain:
We can make better recommendations for people using algorithms than guess work;
We can see patterns that no one realised were there before;
We can find the balance between what is perfect for an individual and what a company wants to present.
What needs to change is not the technology but the mind set of travel companies that are used to thinking in averages and in analogue ways.
The future is about individuals and real-time, not averages and slow.  We are just starting to understand how profoundly this will change the nature of travel selling.
And as the world moves towards mobile with limited real-estate, the importance of recommendations becomes greater every day.
Bd4travel and Travel Republic won the 2018 Travolution Award for Best Technological Innovation
---
Curate and deliver is an approach at the heart of 2018 Travolution Award winning brand Imagine Holidays. Lee Hayhurst spoke to global marketing director Carl Burrows
Specialist cruise retailer Imagine Cruising is making a name for itself by focussing on delivering unique experiences for its customers.
The firm, which is majority owned by Emirates Group's dnata Travel, is working with celebrities like opera singer Kathryn Jenkins and racing driver martin Brundle to offer something unique.
It is this focus on enhancing the actual product and promoting it in an inspiring and engaging way that saw it scoop the Travolution Award for Best for Cruising this year.
Carl Burrows, global marketing director, said the challenge in travel is that customers are already highly emotionally in the product before they land on your site.
And he said successful travel firms will make their journey to their experience of choice as simple and seamless as possible.
"We have very much a philosophy of less is more. Our whole strategy is to provide a better both offline and online experience and to tailor it to what we know they enjoy," said Burrows.
Imagine Cruising has used data to help it curate its product offering and then to augment that by providing exclusive added-value on-shore experiences not offered by rival brands.
"Our biggest problem is trying to bring that story to life," said Burrows. "We very much rely on print advertising which is traditionally very static. Our clients are looking to be inspired."
This move to offering a very customer-centric approach has seen Imagine Cruising move into land-based holidays with the launch of Imagine Motorsports in September.
"We are totally redesigning the product based on customer feedback. Cruise ship facilities are fantastic but when they are in Italy they want an immersive experience with the destination.
"We work out what experiences our customers want and then look for where those experiences exist. Wherever they are in the world we will find them and deliver that experience."