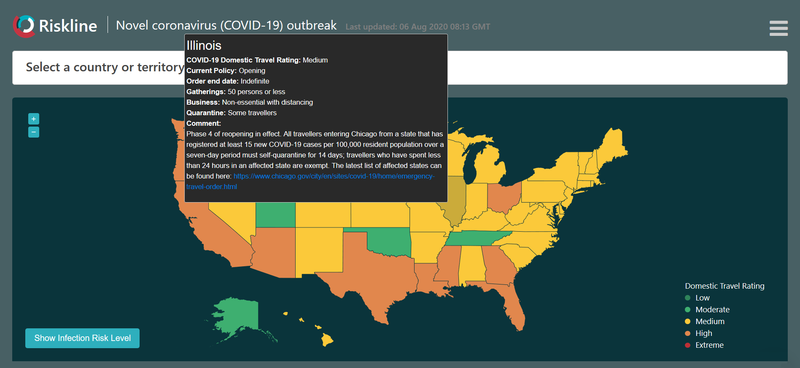 Riskline offers paid-for COVID-19 information central hub for travel managers
New microsite has been made available for a monthly subscription fee
Travel risk specialist Riskline has created a central hub for travel manager to keep up to date with the latest COVID-19 information.
The new microsite aggregates the latest updates in one place, giving travel managers the details and data they need to plan and manage travel.
The site, which is offered for a monthly subscription, offers detailed information down to city level along with latest official government guidance. Features include:
Interactive country map which details risk levels, travel restrictions, quarantine procedures, lockdown measures and other restrictions on movement. Clicking on a country allows the user to drill down the information to city level;
Real time news alerts reporting the latest Covid-19 updates as they happen;
COVID-19 Travel and Safety Report with advice on what to expect when travelling including screening measures at airports and restrictions on public transport.
Suzanne Sangiovese, commercial and communications director at Riskline, said: "Those in charge of managing business travel will have found that their tasks and responsibilities have now changed drastically while, at the same time, their duty of care is now enhanced.
"It's important to take an analytic approach to planning business travel during COVID-19 and our new microsite helps managers to do this.
"Accessing all the intelligence they need to know before and during any trip enables them to be informed and prepared for the difficult decisions ahead."
International security specialists Global Guardian is among the early users of the new microsite.
Michael Ballard, director of intelligence, said: "Having trustworthy real-time intelligence is imperative to staying informed when operating a global business.
"Riskline has been a hugely valuable and reliable resource for our team at Global Guardian as we support our global client base."