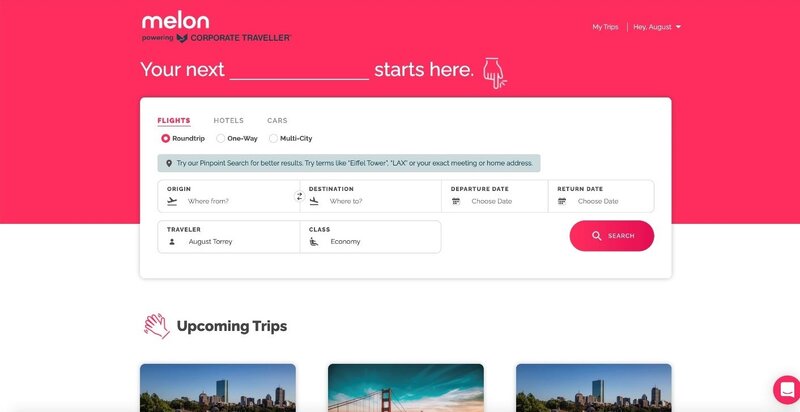 Corporate Traveller set to unveil Melon platform at Business Travel Show
New travel management tech for "travel hungry, tech-savvy and budget conscious workforce"
by Avery Ketcherside
Corporate Traveller has unveiled Melon, its new propriety travel management platform.
The travel management company said it developed Melon in response to the "evolving expectations of an increasingly travel hungry, tech-savvy and budget conscious workforce".
Managers can use Melon to control travel options by setting personalised algorithms and individual spend levels within the platform.
AI technology is used to provide choices based on "learned behaviours" while aligning corporate travel policies with with individual preferences and loyalty programmes.
Andy Hegley, Corporate Traveller UK general manager, said: "During this period of pause, we listened to our customers to develop a next generation digital experience that fuses rich content supported by our trademark dedicated and personalised service.
"We are also encouraged by the UK government's recent simplification of travel requirements and are optimistic this will accelerate recovery. In the past month, future bookings for Corporate Traveller have returned to 2019 levels, indicating a strong desire for prospective client meetings which will be further aided by the easing of these barriers to travel."
Melon displays the latest guidance before booking and provides prompt alerts on risk-related events impacting travel such as country entry requirements, latest government and supplier COVID restrictions, adverse weather, crime and more.
Hegley added: "While the government has recently taken much need steps to simplify travel requirements for those leaving and entering the UK, it is still difficult to keep track of the latest developments across the world. Melon ensures our customers are informed and aware at every step of their booking journey.
"And while travelling, help is always an instant away whether via Melon's AI mobile chat function or the expert assistance of our agent support team. At Corporate Traveller every customer is considered a VIP, and we pride ourselves in always extending the highest level of service to all travellers at all times – with no exceptions."
An exclusive preview of Melon will be available at The Business Travel Show Europe  which is taking place this week on September 30 to October 1.