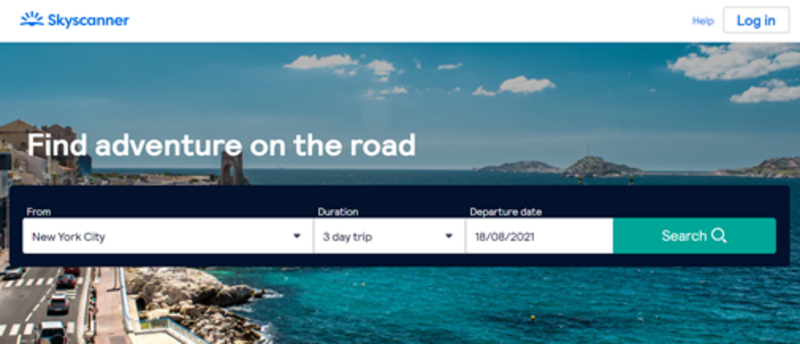 Skyscanner partners with Inspirock to offer domestic trip planning by car
AI-powered RoadTrips launches in beta in five countries including the UK and US
Skyscanner has launched a beta version of a new travel planner in partnership with AI-powered personalised itinerary platform Inspirock.
Road Trips combines Skyscanner's booking services with Inspirock's personalisation engine for planning a road trip.
With searches for domestic travel now accounting for 43% of global searches on Skyscanner, the firm said it "identified an opportunity to expand on its popular flight booking services and meet growing traveller demands for trip inspiration and travel options within their own countries".
RoadTrips is currently live as a beta and available on the Skyscanner platform in the US, the UK, Australia, Canada, and Ireland.
The road trip planner offers tailored recommendations for where to stay to what to see, do, enjoy, and experience.
Inspirock was chosen as the partner for its "powerful algorithms and unparalleled reach" in over 80,000 destinations worldwide, Skyscanner said.
It added this will enable personalised itineraries for travellers based on their unique interests, desired destination and trip duration, time of year, and other key factors.
Paul Cumins, head of car hire at Skyscanner, said: "As travel starts to return, people are yearning to explore new places and favourite destinations once again.
"While we are already seeing air travel pick up more momentum, many travellers are opting for driving holidays, reviving the adventurous spirit of the road trip and discovering (or rediscovering) places closer to home.
"Skyscanner's recently published report, Horizons: The Return of Travel detailed that in the wake of the pandemic, many travellers are still gravitating towards domestic travel.
"Much of the hesitation around international travel stems from concerns around restrictions and testing requirements;  40% of consumers polled said that quarantine is the biggest deterrent for booking international travel, followed by testing (28%) and there being too many restrictions (27%). We've also seen a trend towards smaller rural or coastal destinations, with many of the bigger cities dropping in popularity.
"This presented an opportunity for Skyscanner to develop an offering that would help those travellers who were still keen on an escape but didn't yet feel confident enough to go overseas or fly.
"We wanted to partner with Inspirock because of their unique AI engine and algorithmic approach. This allowed us to rapidly launch and scale Road Trips in five major countries with over 600,000 unique itineraries. As always at Skyscanner, we will continue to iterate and improve to ensure we're meeting travellers' evolving needs. With Inspirock's reach in over 200 countries around the world, we're excited to continue expanding Road Trips, offering travellers more options to drive to destinations — both closer to home and once they arrive in other countries."
Anoop Goyal, chief executive and co-founder of Inspirock, said: "We're proud to deliver Inspirock's technology to help Skyscanner strategically expand its offerings, and meet the real needs and demands of today's savvy travellers.
"Skyscanner has always helped travellers easily find the best prices and trip options to suit their travel needs, and now together, we've created the ultimate tool for personalised road trips.
"Travellers today seek more than just the logistics of where to stay and the best route to get from A to B and B to C — they want to make the most of their precious holiday time by maximising their enjoyment of activities and experiences along the way, and that are tailored to them.
"This is the superior, personalised travel experience that today's travellers demand, helping companies like Skyscanner drive positive business outcomes, including increased brand loyalty, user acquisition, and monetisation.
"True to our name, we're looking to inspire travellers while helping travel industry companies monetise inspiration."