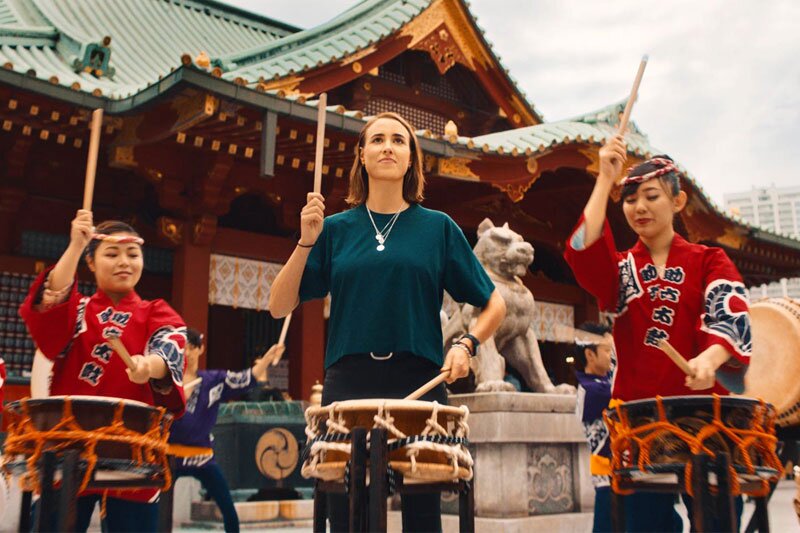 Sounds of Japan feature in turn-of-year KAYAK TV ad
Metasearch giant KAYAK has unveiled its latest UK TV advertising campaign which will debut on Boxing Day (December 26).
The advert features sounds that are related to travel and features London DJ and producer duo Eli & Fur as they travel to Japan to create a new track.
Having planned their trip on KAYAK the pair set off to find inspiration in the sounds of a geisha playing a shamisen, jamming with taiko drummers, and the slurp of ramen.
Locations featured in the ad include the Fushimi Inari-taisha shrine in Kyoto, the Shibuya District of Tokyo, and onsens in Niigata.
The campaign will start the day after Christmas Day in the UK before featuring in other key markets across Europe including Poland, Spain and France.
It is the fourth in KAYAK's "Travel Pros" campaign which so far has included professional snowboarder Jeremy Jones, National Geographic wildlife photographer Mattias Klum, and Chef/Cafe Owner Lauren Johns.
Stefan Petzinger, KAYAK senior vice president EMEA marketing, said: "KAYAK helps its users make confident travel decisions so they can feel great when exploring all corners of the globe.
"When you know you've made the right decisions you are free to enjoy the journey – and that is what we wanted to get across in the ad.
"For creatives like Eli & Fur, travelling to new destinations is crucial for inspiring their creative process. We have been massive fans of Eli & Fur for quite some time now, so it is amazing to be collaborating with them on the campaign and the new track they created along the way."
"We are used to seeing travellers share images of their journey on social media, so it is easy to forget how incredibly stimulating it is for our other senses. The sounds of a travel destination fuel the excitement of being in a new and unfamiliar place and the advert captures this sense of energy and adventure."