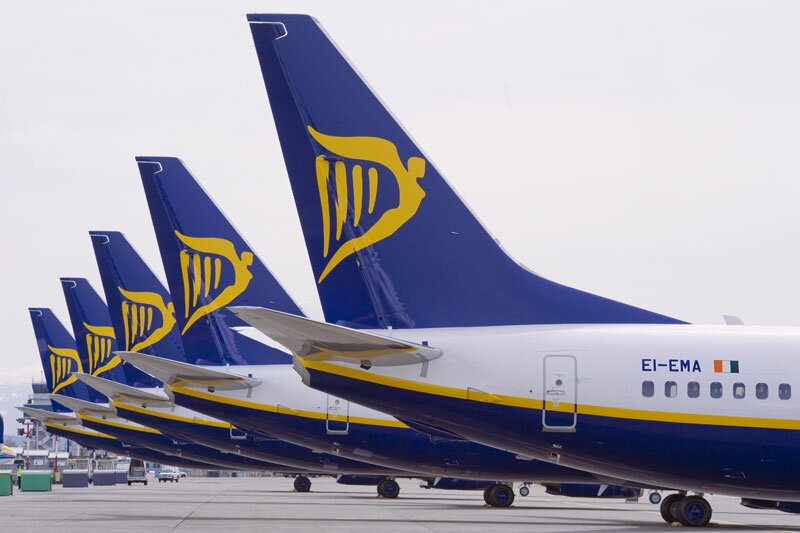 Ryanair refuses to issue refunds for bookings through agents
Position on third parties stated amid €20 million refund row with Irish agency group
A row over Ryanair refunds has erupted into a dispute between The Irish Travel Agents Association (ITAA) and the budget carrier over booking via third parties.
On Monday, the ITAA claimed the airline owed its members' customers €20 million in refunds for bookings affected by Covid as Ryanair ran 'ghost flights' throughout the pandemic.
Ryanair hit back today (Tuesday), saying it has not recognised travel agents for 20 years, leading the ITAA to call the carrier "disingenuous" as its fares are available via platforms used by third parties.
In response to the initial story, Ryanair said the ITAA's claims were "false" because it "does not permit travel agents or other unauthorised third parties to make bookings on Ryanair.com".
It added: "Any such travel agent bookings are in breach of Ryanair's terms and conditions" and accused agents of "misleading customers by charging them hidden mark ups or add-ons" and using "fake contact details".
"This is precisely why Ryanair recommends that passengers book directly," the airline added, insisting everyone who had booked direct and had requested a refund had received it.
Ryanair accepted a "small number of passengers" booked through travel agents "have not and will not receive refunds unless they request their refund by filling in the Customer Verification Form on the Ryanair website" – a process the ITAA had called "cumbersome" but the airline argued was "to avoid many cases where travel agents have not passed on refunds to the customer".
"Ryanair will not refund unlicensed third party intermediaries who made unauthorised bookings in breach of Ryanair's terms and conditions," the airline stated, saying agents had "duped" customers into paying inflated fares. "This will expose the fact that many of these consumers have overpaid for tickets that were available at lower prices on the Ryanair website," it claimed.
A Ryanair spokesperson said: "Irish consumers used to be at the mercy of travel agents for many years long before Ryanair started in 1985" and said Covid-19 had "exposed" agents charging more.
But the ITAA hit back at Ryanair's response, highlighting the consumer protection offered by booking via an agent under the European Package Travel Directive (PTD) – which offers a refund guarantee and does not extend to direct airline bookings.
It said Ryanair's claims it does not work with third parties are "disingenuous" because its fares are available on global distribution systems (GDSs) such as Travelport and Amadeus, which offer travel agents a choice of airfares. It also noted that customers book with agents for other reasons, such as customer service and because they don't have internet access.
The ITAA said Ryanair is "happy to take money for bookings" but said the airlines has a "duty of care" to refund customers when flights are cancelled and said the backlog Ryanair denies was "clearly evidenced" on social media following the initial story on Monday.
And it said travel agents are "very transparent" with their clients, with all details and charges including flights, accommodation and extras, broken down on the invoice. For Ryanair flights, the ITAA said agents pay with their credit card but submit the client's email address so that they receive email updates about their flight. It stressed travel agents "do not conceal flight costs from customers".
Pat Dawson, chief executive of the ITAA, said: "Ryanair is well aware that it has been dealing with travel agents for the past 20 years. No one is saying that we have a direct relationship or contract with Ryanair, however it has taken bookings by travel agents on behalf of our customers, taken our money and, in the past, processed refunds when necessary.
"We believe that the statement issued by Ryanair earlier today to be disingenuous and we are asking for honesty and transparency in order to resolve these issues with refunds.
"Customer safety and satisfaction is the number one priority for ITAA member travel agents. Our members do not under any circumstances use fake customer details when making bookings, nor do they overcharge customers with any hidden fees or add-ons.
"We are disappointed by these insinuations, as we have the highest respect for our customers. We wish to work with Ryanair to sort out any ongoing issues with refunds for our member travel agents and our customers, but we do not accept this narrative."