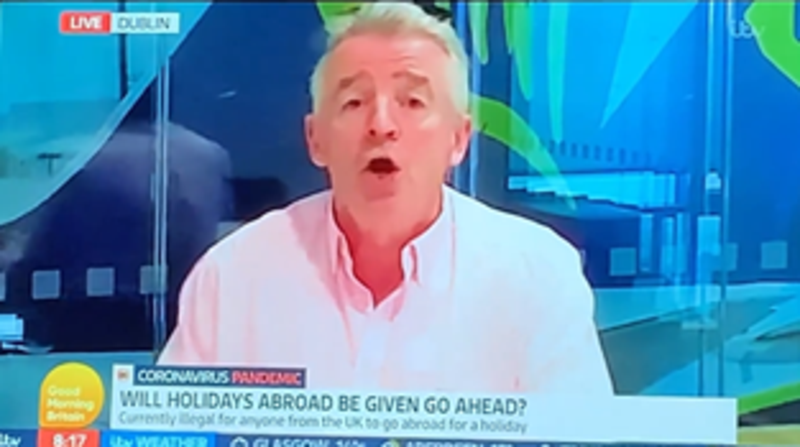 Furious response after latest anti-travel agent tirade by Ryanair boss
Michael O'Leary tells Good Morning Britain viewers it is 'illegal' for third parties to book on its website
The latest anti-travel agent tirade by Ryanair boss Michael O'Leary has provoked a furious reaction from retailers.
O'Leary was quizzed on Susanna Reid on Good Morning Britain about claims by ah Irish trade body that there were still £20 million of unpaid refunds.
In a feisty exchange, O'Leary used the platform on national television to continue the carrier's attack on all third parties and to persuade the GMB audience why they should book direct.
"But first I wouldn't believe anything that the Irish travel agents tell you. To put it into context, we don't have any bookings from Irish travel agents. People are only supposed to book online or directly as consumers," O'Leary said.
He added: "It's illegal for them [agents] to make bookings on our websites. We don't allow third parties to make bookings, that's one of the great challenges the airlines have faced in recent years.
"It's been exposed by the coronavirus pandemic that we have all these intermediate agents, screenscrapers, going in making bookings and then overcharging our customers, giving us fake customer contact details and fake payment details."
O'Leary said the airline has refunded everyone who has applied to them directly for refunds leaving a "tiny number" of passengers who he said were "duped" into making bookings through screenscraper or third party agents.
Ryanair has set up a customer verification system on its website for those passengers to contact the carrier directly to apply for refunds or for a voucher.
Playing down the extent of refunds still outstanding, O'Leary said the carrier only has "hundreds of customers" they can't reach who have yet to apply to it direct for a refund.
And he made the further claim that the airline is not allowed by law to refund via third parties.
"We are not allowed by the regulator or by law to give a customer's refund through a third party intermediary, whether it's an Irish travel agent or an online screenscraper," he said.
The interview concluded with O'Leary saying: "Don't book through travel agents, book directly through your airline. That's how you get the cheapest fares online, that's how you get the quickest refunds."
The reaction among members of the travel agent Facebook group Travel Gossip was immediate and angry.
One said the firm has already stopped selling Ryanair and another questioned if it is illegal for third parties to book on ryanair.com isn't the airline breaking the law by accepting those bookings.
One member posted: "He's just made us sound like the baddies yet again!! All Operators including the 'Screenscrapers' should stop selling them!! Kick him where it hurts! #boycottRyanair."
Another said O'Leary "wasn't complaining when bookings were flooding in though and people were travelling."
A Travel Gossip member from Ireland said: "He's always hated travel agents . Years ago he was invited to speak in Dublin at travel agents annual conference. Got up and slated us , said we were good for nothing middle men who basically had no role in the industry."
The Legal Opinion 
Following O'Leary's comments, Travolution asked for an expert legal view. Here Matt Gatenby, senior partner and head of litigation at Travlaw, gives his opinion.
"It is certainly not illegal, in a criminal sense, for a third party, such as a travel agent, travel management company or tour operator, to use Ryanair's website to make bookings on behalf of consumers and for monies to be taken in, and refunded via that path. 
"Ryanair do, however, argue that it would be a breach of their Terms & Conditions for third parties to do so.
"Similarly, on the face of it, Ryanair's terms and conditions prevent bookings being made by third parties on behalf of a traveller.
"That may well be justifiable in order to prevent 'screenscraping', which is a practice tantamount to 'ticket touts' buying up all the tickets for an event and then selling them on at a premium. 
"However, Ryanair appears to now be enforcing these terms in order to challenge travel businesses who will say that they have a perfectly legitimate reason for doing so – whether by providing a service on behalf of travellers such as an agent or travel management company, or by compiling a number of travel services as a tour operator. 
"Ryanair's attempt to enforce their legal position in these cases more recently has certainly been contentious in the eyes of many in the travel and leisure industry, although I am not aware of any ongoing legal challenges in the courts."
Gatenby said Ryanair for many years has been aware and permitted the practice of corporate credit cards being used to make multiple bookings where the contact details would be identical for different customers.
He said the industry believes the carrier has 'turned a blind eye' to this because the real objective of its terms are to prevent 'scraping' by opportunists rather than legitimate travel agent and tour operators.  Also because travel agents and tour operators drive a substantial number of bookings to Ryanair;
It is now felt that Ryanair is trying to impose its terms and conditions on third parties because of the "increased and unforeseen pressure to make refunds".
The challenge for third parties posed by Ryanair's direct refunds policy is it requires them to provide the budget carrier with customers' personal details to verify ID and many have refunded the customer under package travel law obligations or to offer customer service.
"The travel businesses therefore face a substantial administrative burden to try and secure all of the information requested by Ryanair, compounded by the fact that the traveller has no real incentive to co-operate as they have already received monies back," Gatenby said.