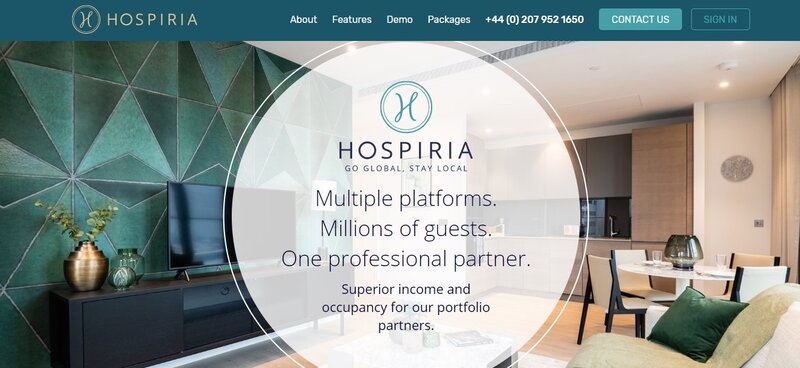 UnderTheDoormat launches Hospiria to champion small premium rental providers
Tech platform developed to help property owners and managers to retain their independence
London-based short-term rentals specialist UnderTheDoormat has launched a new technology platform to help small property owners and manager retain their independence.
Hospiria claims to be the world's first service and tech product developed to support property owners, portfolio managers and independent holiday lets owners.
It says  it will help operators who want to "retain their independence and compete toe-to-toe with national players and global accommodation brands in the post-COVID-19 market".
Aimed at firms with portfolios of between five and 100 properties, Hospiria says it will help them gain a competitive advantage by increasing routes to market, drive bookings and provide the technology to manage growth.
Hospiria chief operating officer Richard Bridger said: "During the COVID-19 pandemic, many of the thousands of independent property management companies across the UK and Europe have been relying on strong historical cashflow and government grants to survive.
"Now they can re-open, many will need to secure bookings quickly and at optimum rates to ensure they recover and grow beyond the shortened summer season.
"Hospiria has been built to champion the smaller, premium players in the industry. It helps property management companies to maximise the occupancy and rates in their accommodation.
"That's going to be critical for this summer's UK Staycation boom and particularly during the traditional quieter periods.
"We know that there is plenty of pent-up demand from consumers to book UK stays for the rest of 2020 and that they really value staying in properties that are independently-owned and run.
"Hospiria will give independent companies a much better chance to recover and then prosper in the longer term as they'll have a much greater share of voice on booking platforms and be offering added value services to differentiate themselves.
"Our expert team will take care of all of our partners' bookings, 7 days a week which will allow property owners to focus their resources on growing their portfolios rather than hiring more people to manage their current business and enabling them to stay independent."
Hospiria said the platform offers the following advantages and services:
Global distribution – listings on an exclusive curated combination of more than 40 international booking platforms giving access to millions of guests;
Reservations management – bookings and reservation management until a confirmed payment hands over to the partner for the 'in-stay' guest experience;
Preferential access – on existing and exclusive channels including Booking.com, VRBO, HomeAway, Airbnb, the Expedia Partner Network and Homes & Villas by Marriott Internationa;
Enhanced rental income – Bespoke technology and dynamic pricing tools to help generate optimal occupancy levels at the best rental prices;
Greater profitability – Higher occupancy and daily rates without the cost of an in-house team;
No double bookings or cannibalisation – avoids problems that can occur can when properties are listed on multiple platforms that are not directly integrated;
Reassurance of quality of guests – a guest matching and vetting service, including a bespoke pre-check in form and insurance;
Online booking calendar – enables partners to see all confirmed bookings and manage them in one view along with the operational tools to run them efficiently.
Hospiria has been piloted with several UK companies ahead of launch. The key criteria for partners wanting to use the platform are four or five star, or equivalent standards, and managing or owning five and 100 properties in the UK or Europe.
There is a Premium option which includes host insurance, policies and standards guidance, onboarding blueprints and field management systems.
Independent property owners or management companies have been asked to contact hello@hospiria.com for more information.