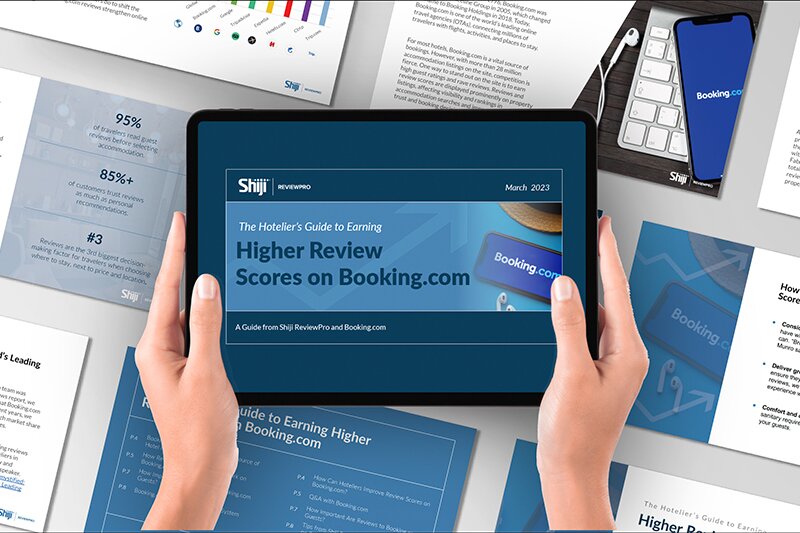 SHIJI REVIEWPRO LAUNCHES 'THE HOTELIER'S GUIDE TO BOOKING.COM'
Reports highlight that 95% of travellers read reviews before choosing accommodation
The team at Shiji ReviewPro has released a new guide to help hoteliers improve their reputation on Booking.com.
Titled "The Hotelier's Guide to Booking.com", the guide provides valuable insights into the importance of reputation and how to improve review scores, resulting in better visibility and increased bookings.
The report highlights that 95% of travellers read reviews before selecting accommodation, with over 85% trusting online reviews as much as personal recommendations.
It also presents six tips for hoteliers to improve their review scores on Booking.com, including replying to reviews, managing expectations, providing breakfast, delivering great service, ensuring cleanliness and comfort, and monitoring positive mentions in reviews.
The report also reveals that Booking.com is the leading platform for hotel reviews, accounting for 42% of all reviews worldwide, followed by Google and Tripadvisor.
The newly launched review system on Booking.com allows guests to provide a specific score out of 10 and submit customised subscores for different aspects of their stay, providing a more detailed analysis of the guest feedback.
The system also aims to eliminate anonymous reviews and plans to make guests pinpoint reasons when giving extreme reviews to help hoteliers address pressing issues.
The report emphasises that sustainability is an increasing priority for travellers, with 38% actively seeking information on a property's sustainability efforts prior to booking.
Booking.com has responded to this trend by offering different sustainability badges that can be highlighted on a property's page and enabling a search filter for sustainable properties.
"Reputation is one of the most significant assets a hotel can have, and the internet and online reviews amplify, if not carry that message," said Michael Kessler, chief executive at Shiji ReviewPro.
"We hope that The Hotelier's Guide to Booking.com will help hoteliers understand the importance of reputation management and provide them with valuable insights to improve their scores on Booking.com," added Kessler.