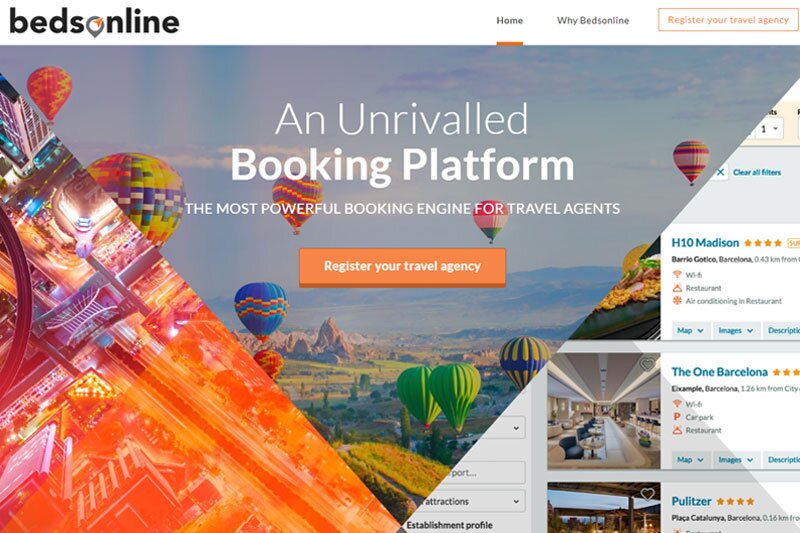 Hotelbeds unveils new Bedsonline brand after GTA and Tourico integration
Accommodation and add-ons trade supplier offers new portfolio of hotels Continue reading →
Industry accommodation and add-ons provider Bedsonline is boosting its offering to travel agents under a new brand identity.
An improved portfolio of hotels is available following the integration of GTA and Tourico Holidays into parent group, Hotelbeds.
The new customer offering is accompanied by a global brand refresh for Bedsonline, including a new logo and brand identity.
Sales teams globally will running meetings, presentations, webinars and events in local markets to introduce the newly revised offering.
The Bedsonline platform now claims to offer travel agents:
• More than 170,000 hotels worldwide, with over 90,000 directly, 24,000 transfer routes, 18,000 activities and 140,000 hire cars, all sourced by a team of 1,000 contractors.
• A powerful search engine designed specifically for the needs of agents, allowing users to filter and compare results in a flexible and practical way, including intuitive email and PDF functions.
• Local sales teams in every market with significant local knowledge and industry know-how ready to take care of all the needs of customers.
Hotelbeds Group bedbank managing director, Carlos Munoz, said: "Once again it gives me great pleasure to reiterate our commitment to supporting our travel agent customers globally as part of our strategy to innovate in the bedbank sector.
"This new enhanced offering will help all our partners boost revenues and profits by access to a greatly enhanced portfolio, improved functionality and increased chances to upsell high-yielding complementary travel services."
Retail travel agents director, Alistair Rodger, added: "Since starting in this role almost one year ago I've been consulting endlessly with our travel agent customers all around the globe.
"Time and again the feedback about the Bedsonline platform has been fantastic – due to its superior functionality – but we're looking to continue to improve the experience still further, beyond the booking platform itself, by establishing a truly 360 degree proposition to fully support the growth of our travel agent partners.
"Already we are speaking with our customers globally to explain to them how they will benefit from these changes. Shortly we'll be hosting a series of events and workshops to present the new enhanced offering.
"This follows the expansion of our product portfolio and strengthened position to negotiate the best deals for our customers with the inclusion of Tourico Holidays and GTA into our group – along with all the additional improvements we have made by cherry-picking the best-of-class functionalities and know-how from across the three companies, such as improved payment options, operational support and loyalty rewards."