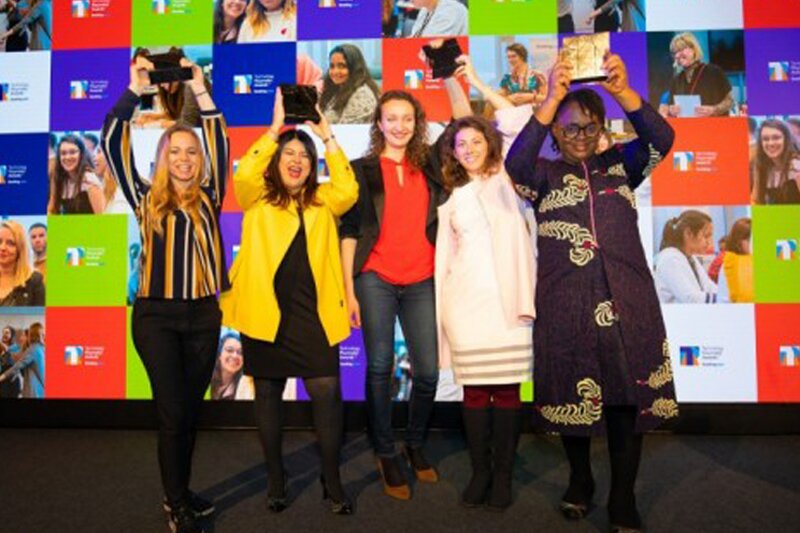 Booking.com recognises trailblazing women in tech with Playmaker Awards 2019
Awards open to global nominations drew hundreds of entries from over 60 countries
Booking.com has announced the recipients of the 2019 Technology Playmaker Awards.
Now in its second year, the awards recognise women across the global technology scene who Booking.com said are "trailblazing new paths, creating innovative products and experiences, positively impacting communities and inspiring future generations."
This year, the awards were open to global nominations, building on an European focus last year, and drew hundreds of entries from over 60 countries.
At a gala ceremony held in London on March 13, nine prizes were awarded, including seven individual category awards, one employer award and the overall 2019 Technology Playmaker of the Year award.
The awards ceremony and gala dinner included speeches from Eileen Burbidge, partner at venture capitalist firm Passion Capital, and Hadeel Ayoub, chief executive officer (CEO) of BrightSign. Hadeel was recognised as the inaugural 2018 Technology Playmaker of the Year.
The seven individual categories recognised the tech contributions of women in areas ranging from positive business impact, innovative use of digital tools and emerging technologies, community impact and sustainable practices, rising tech talent and an organization that is demonstrating a commitment to achieving gender diversity in IT and technology.
The judging panel was chaired by Gillian Tans and included leaders from global tech companies, academia and start-ups including Skyscanner, WeTransfer, Amazon Web Services, Spelman College, Delft University of Technology, NeuralBay, Wormhole and All Turtles, as well as representatives from the European Parliament and the Financial Times.
Each category winner received a €5,000 prize, and the Technology Playmaker of the Year, who was selected from among the individual winners, received an additional €10,000.
The Technology Playmaker of the Year award is given to the individual category winner who judges felt has made the most impactful contribution to innovation in technology and driven social change at a global level.
This year's recipient of the award was Linda Liukas, Finland-based founder of Rails Girls, a global movement that is teaching young women to program in over 300 cities worldwide. Linda is also the author and illustrator of Hello Ruby, a children's picture book series translated into 25 languages about the world of computer science.
The 2019 Booking.com Technology Playmaker Award winners are:
• Community Impact – Martha Omoekpen Alade (Nigeria), founder of Women in Technology in Nigeria, an NGO using technology to drive socio-economic empowerment in Nigeria in order to help 20,000 women and girls out of poverty by 2022
• Role Model – Linda Liukas (Finland), founder of Rails Girls
• Business Leader – Beena Ammanath (US), global vice president of artificial intelligence (AI), data and innovation at HPE and founder and CEO of Humans for AI, a non-profit focused on increasing diversity in tech through the use of AI
• Young Technologist – Betelhem Dessie (Ethiopia), founder and CEO of Anyone Can Code in collaboration with iCog Labs, empowering children and young adults to innovate via coding, AI and robotics with the aim to solve society's problems through technology
• Tech Innovator – Sophie Hombert (France), founder of Aglaé, the first luminescent plant company of its kind, developing a biodegradable nutritive serum that gives plants a luminescent effect
• Digital Leader – Jill Zeret Jiménez Rodríguez (Mexico), founder of Zytreon Tecnología Infinita, a technology firm that launched a detection system to locate survivors following an earthquake
• Employer Award – 1 Million Women to Tech (US), a global online technology education program dedicated to reaching one million women with free coding education by January 2020.
Gillian Tans, chief executive at Booking.com, said: "We received an exceptionally high caliber of nominations from every corner of the world, and it is my pleasure to congratulate all of our inspiring finalists and winners. Their stories highlight the breadth and scale of achievements that women at all stages of their tech careers are making every day.
"We recognise the need to shine a light on role models in the tech industry and set out to create a forum that brings together leading female technologists from different backgrounds to exchange ideas and perspectives and build connections with the aim to inspire future generations and achieve equal gender representation for women in tech."
Linda Liukas, winner of the 2019 Booking.com Technology Playmaker of the Year award, added: "I'm completely blown away to receive both the Role Model and overall Technology Playmaker of the Year 2019 Award. Initiatives like this help women feel seen and more widely recognised in general, as well as help to forge important and lasting relationships among like-minded, brilliant, world-changing women who work in the tech industry.
"Technology for me is about self-expression, creativity and joy. Women have so much to offer to the tech world and often make the mistake of trying to fit in too much. The moment I decided to step into my own possibility and curiosity, I started to build a career that looks like me."