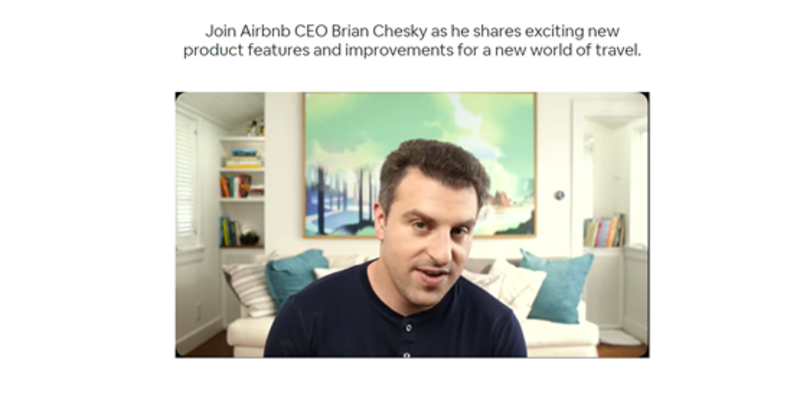 Airbnb focusses on flexibility and simplicity in its 2021 upgrades release
More than 100 improvements made as travel faces 'biggest rebound in a century'
Airbnb has made over 100 upgrades to its website for guests and hosts in response to changing traveller behaviours due to the COVID-19 pandemic.
For guests the peer-to-peer accommodation website has introduced three new, more flexible ways to search for properties offering more choice.
Hosts are being offered a simpler process for both listing and managing their homes and greater community support, the site's founder Brian Chesky admitting it fell short during the pandemic.
Revealing the changes yesterday in a YouTube recording, Chesky said he shared the optimism of its hosts that we will see the "biggest travel rebound in a century".
However, he said people's behaviour has changed during the pandemic and guests are demanding greater flexibility.
Airbnb has already begun to respond to this, said Chesky, with an expanded dates search feature which has already been used more than 100 million times since it was launched in January.
This allows people to search for weekend stays during the entire summer or a specified month, something that previously would be required multiple searches.
As well as flexible dates, the site has also launched flexible matching so more properties are surfaced in searches that are not an exact match for search criteria.
This could mean they are just outside the geographical area, or do not have one of the features requested. Chesky said this is an antidote to 'over-filtering' by users which can result in very few results being surfaced.
The final change Airbnb has introduced for bookers is flexible destinations. This way of searching focuses on the type of property or the location, for example beach-side or farmstay.
A dynamic map decides how wide an area to search based on the type of property requested. This function is due to go live on June 30.
Chesky said: "We are seeing three fundamental shifts in travel as people become less tethered and more flexible.
"People can travel anytime, they are traveling to more places and they are staying longer.
"The lines between travel, living and working are blurring and we are upgrading our service to make it easier for people to integrate travel into their lives, and for more people to become hosts."
Airbnb says it has seen an increase in people searching for low-density destinations during  the pandemic, so they now account for over a third of all searches.
And it says people are travelling for longer with a quarter of bookings in the first quarter of this year made for longer than 28 days.
Chesky said 90% of its four million hosts are individuals, not professional landlords and 55% are women.
Airbnb has simplified the process of listing a property using machine learning to create short descriptions and decide which pictures should be given greatest prominence.
The site says a room or property can now be listed in '10 easy steps' with integration to real estate data used to pre-populate feature fields.
Improved support is also being offering with a 'Today' tab for hosts showing them what they need to do today as well as offering other relevant advice from superhosts.
Chesky admitted that last year Airbnb's community support "was not where it should be" having reduced its team so it did not have enough agents to support the rebound.
The site has doubled the number of community support agents and it has quadrupled the number of languages it offers support in from 10 to 42.
It will also introduce dedicated superhost support team in north America from September 30 and worldwide from December 15.