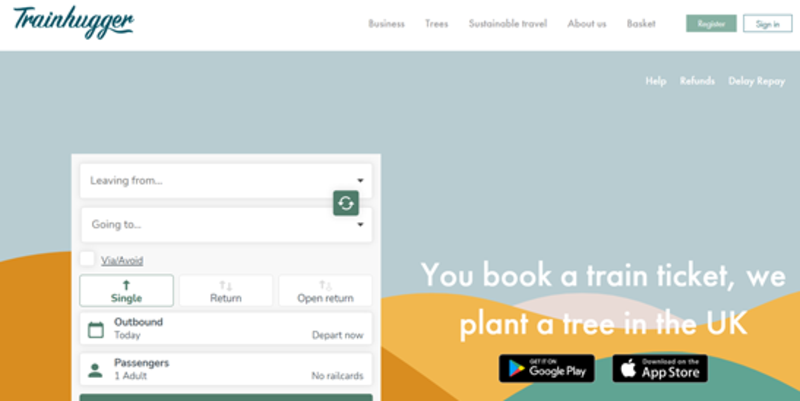 Trainhugger launches vowing to plant a tree for every journey booked
New sustainable booking platform goes live during English Tourism Week 2021
New sustainable travel train ticketing service Trainhugger is offering rail users the chance to offset the impact of their travel by planting trees.
Trainhugger vows to plant a tree in the UK for every journey booked through its app or desktop site trainhugger.com.
Trainhugger customers do not pay more for the service, Trainhugger saying it offers the best fares available and donates donates a third of its revenues to tree planting.
The launch was timed to coincide with English Tourism Week 2021 promoting the best destinations this country has to offer.
Ed Caldecott, Trainhugger chief executive said: "This is a really easy way for people to change their behaviour and become greener without it costing them any more.
"If you're planning a trip, book your train ticket with us and we'll plant a tree in your name.
"We want to make sure that every Trainhugger tree that goes into the soil is both the right species and planted in the best place possible, so we have teamed up with the experts at the Royal Forestry Society (RFS) and the Royal Scottish Forestry Society (RSFS).
"Together, we have set up a special Trainhugger grant for their members.  It means we could potentially be planting millions of trees every year across the UK."
RFS development manager Jen Turner added: "This truly is a pioneering project.  The lockdowns have made many of us more aware than ever of opportunities to cut our climate impact and improve local air quality. Trainhugger delivers so many benefits in these areas.
"Every booking through the Trainhugger platform means a tree will be planted and managed expertly for the future.  Train travel also produces significantly less CO2  than traditional car travel so this is a win-win for conscientious travellers, the environment and for those planting resilient woodland."
Customers can access all their journey information in the Trainhugger app, which also keeps track of how many trees each user has planted and how much carbon has been saved.