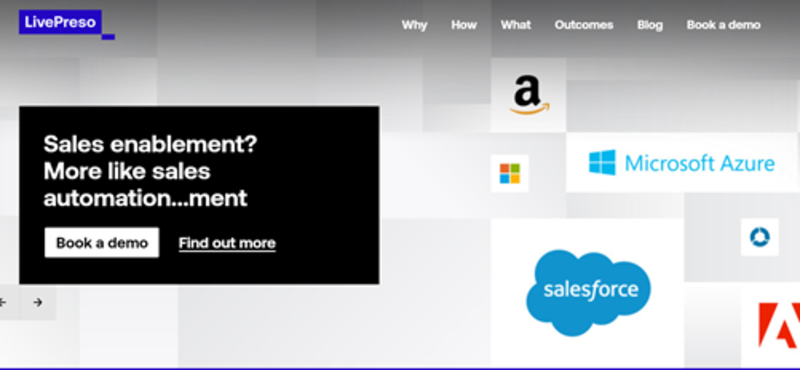 Virtual selling platform LivePreso eyes growth after Booking.com and Flight Centre deals
Australian start-up expects COVID-19 to prompt long-term switch to remote working
Melbourne-based automated digital content platform LivePreso is targeting growth in the UK travel sector having secured major deals with Booking.com and Flight Centre.
The start-up, formerly known as SalesPreso, offers a cloud-connected suite of apps designed to automate sales presentations.
It reported it has posted a record quarter which saw 43% growth and 100% contract renewal in the three-month period.
In 2019 LivePreso raised $5 million in an investment round led by Shearwater Capital and appointed Chris Ridd, former Xero managing director and technology investor, as board chairman.
LivePreso now supports thousands of users across 72 countries around the globally with the UK its third largest market.
The platform has completed 79 integrations and since signing Booking.com it now supports dynamic content in 43 languages.
Co-founder Joel Thomson said: "Virtual-selling has driven our recent growth. COVID-19 made virtual meetings a necessity, but we see more companies moving to this model for the long-term, particularly as more team members opt to work remotely.
"The companies we're working with have successfully transitioned to more remote meetings and are now looking beyond video-call tech to their unique training and content requirements.
"We enter the sales and marketing agenda for next-generation content, 'smart content', which is data-driven and interactive.
"This new generation of sales content will become a fundamental basis of competition, underpinning increased productivity levels and a re-imagined high-engagement customer experience."
LivePreso said Booking.com and Flight Centre Travel Group ran comprehensive reviews of the technology which "exceeded their key targets for adoption and customer engagement".
Flight Centre Travel Group chief technology officer Jonathan Clark said: "We chose LivePreso to automate complex business meeting content and support our focus on providing world class account management across our corporate brands, especially in a virtual environment.
"LivePreso manages live data from our reporting and analytics platform, funnelling it into one, unified sales tool. It uses our own customers' data to deliver insights and support recommendations.
"The decision to add LivePreso to our core tech-stack followed detailed analysis of the global sales enablement software solutions available.
"We have operations in 12 countries, across the Americas, APAC, and EMEA, and we were delighted when it turned out that this amazing technology was on our doorstep. Since starting the deployment in Australia, we have been so pleased with the improvements, that we have expanded our use of the platform globally."
LivePreso co-founder Aaron Cooper added: "Step one has been sales enablement, getting the tools into the user's hands and tightly integrated into their processes.
"The next stage is focused on revenue enablement, delivering repeatable success through guided automated processes.
"LivePreso is an independent start-up out of Melbourne, most people haven't heard of us, but they will have heard of our clients, many of whom are international enterprise leaders.
"We win these clients because if a business wants dynamic personalisation for its sales and account management content, right now, we're the only option in the UK or anywhere globally. The UK has quickly become our next big market, particularly in financial services."