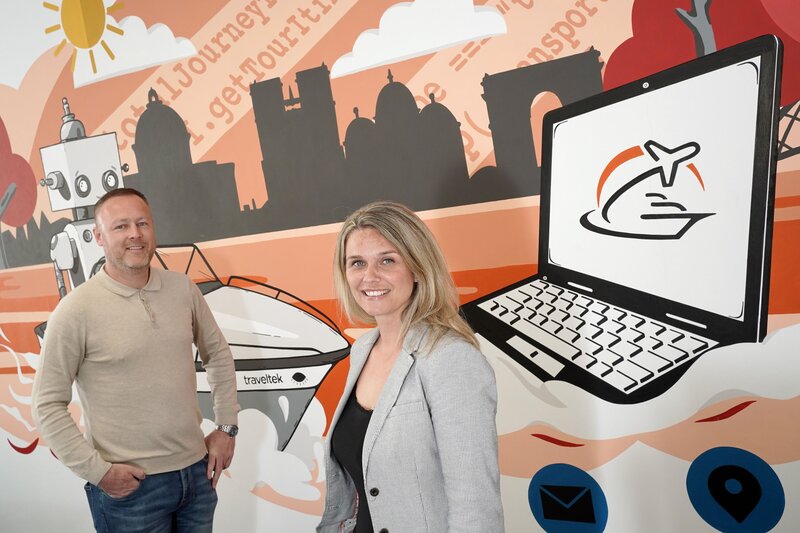 Traveltek to double dev team to focus on product and international growth
Glasgow firm eyeing new investment round as it prepares to launch data analytics and insight product
Glasgow-based travel technology specialist Traveltek will more than double the size of its development team as it focusses on product development and international expansion.
The firm is seeking staff for 15 new roles at its headquarters in the Scottish city with a new data analytics insights platform set to launch.
Traveltek is seeing particular success in the US market which it is targeting for expansion having secured JetBlue Vacations. Spain-based Hotelbeds is another new client.
Jim McCumesty has recently joined Traveltek as head of software development from global business analytics software group SAS.
He will oversee a focus over the next twelve months on adding additional features and functionality plus completing the migrating to a fully cloud-native offering.
Chief executive Mal Barritt [pictured with chief commercial officer Cressida Sergeant] said:
"The pandemic has caused seismic shifts in the worldwide travel sector, and we believe that data and technology provides a route to recovery for our clients.
"As we look to the future post-Covid, our ambition is for Traveltek to be a fundamental partner and facilitator on the travel industry's recovery roadmap.
"Scotland has a great tradition in travel technology, with companies that have gone on to worldwide success.
"We have amazing tech talent in Glasgow and across the country, and we're excited to welcome more people into the business as we plot our next phase of growth."
Traveltek is backed by YFM Equity Partners and Fullbrook Thorpe Investments and is set to announce its next external investment round by the end of the second quarter of 2021.
It moved its headquarters from East Kilbride to Glasgow city centre during the pandemic and has satellite offices in Birmingham, India, Australia, and North America.
The firm's core product, iSell, provides travel agents and tour operators with book, search and packaging capabilities.
Key clients include Hays Travel, Barrhead Travel, Stewart Travel, Sandals and Flight Centre.