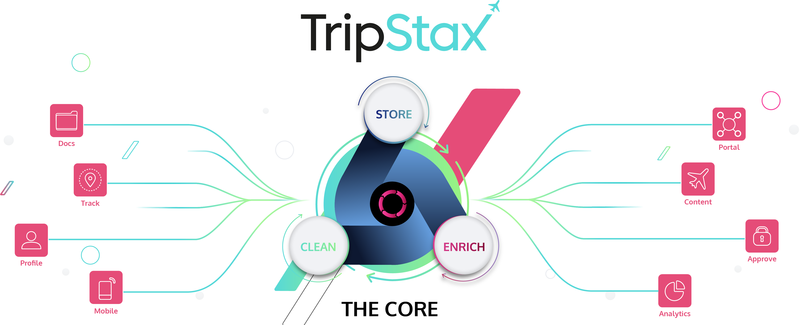 Start-up TripStax launches to consolidate fragmented business travel tech
A core platform connects modules of proprietary tools in a single stack
Start-up TripStax has claimed the launch of its business travel technology will "redefine the tech landscape for business travel management companies".
The new provider will give travel management companies (TMCs) access to well-established but affordable, travel management solutions.
TripStax describes itself as a connected modular stack of eight proprietary travel tech tools covering analytics, approval, content, docs, mobile, portal, profile and tracking.
These are powered by 'The Core', a central data processing architecture that manages all traveller profile, booking and invoice data in one place.
As the sole source of a TMC's corporate client data, The Core determines how this data is used across each module in the stack.
It also connects airline content from multiple sources including GDS providers, aggregators and direct connections to airlines.
Jack Ramsey, chief executive of TripStax, said: "The reason for launching TripStax was driven by the realisation that B2B travel tech is far too fragmented and is therefore highly burdensome for small to mid-size TMCs on multiple levels.
"The industry is rife with providers and large-scale TMCs promoting their 'tech stacks', but in reality, these are a combination of multiple third-party vendor applications, white-labelled and consolidated in a marketplace style offering with complex and often unstable integrations; plus each vendor is charging transaction fees to the TMC.
"TripStax, however, is a true tech stack with The Core at its heart feeding to and from our own proprietary applications and those of others that benefit our customers.
"Our vision is to empower mid to small scale TMCs to become more competitive against their tech lead rivals, level the playing field, and significantly enhance the service they give to their corporate customers.
"TripStax gives them a premium and proven tech stack that ordinarily wouldn't be available to them because it would be financially prohibitive to invest in or develop themselves.
"By adopting TripStax's entirely new commercial model, TMCs can afford this type of high-end tech, because they can make vast savings on transaction fees.
"This is a hugely beneficially proposition for the business travel sector – TripStax isn't just about a suite of integrated tech products, it's redefining how the travel tech eco system operates."