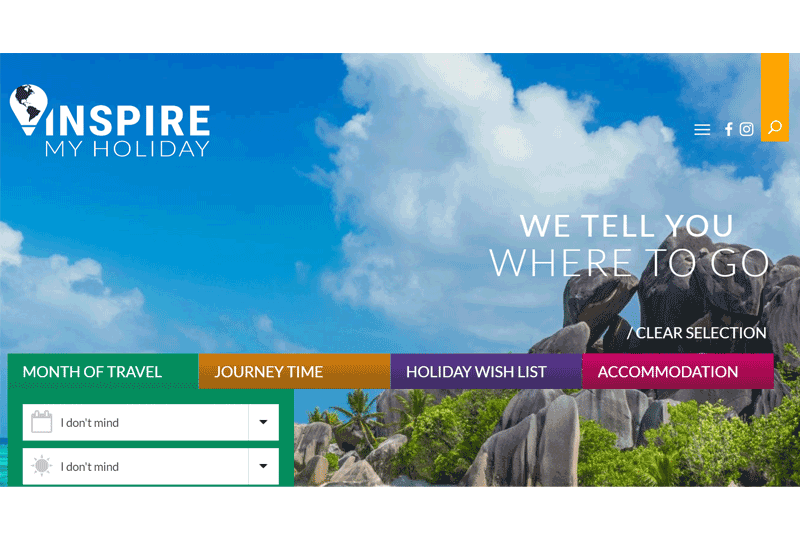 Start-up inspiremyholiday.com prepares for growth with commercial team hires
Search engine optimistic travel will bounce back once COVID-19 restrictions ease
Start-up holiday destination search engine inspiremyholiday.com has beefed up its commercial team in expectation of a surge of business once COVID-19 travel restrictions ease.
The privately funded business has brought in Tom Dale and Lockie Kerr as business development consultants to bring new partners on board following a strong initial six months in operation.
The company says it is targeting 350,000 unique visitors in the next 12 months and has spent the lockdown period fine-tuning its bespoke search technology.
The firm already works with big-name brands including Lastminute.com, One&Only Resorts, booking.com, CV Villas, Expedia and New Market Holidays.
Kerr has considerable experience in the tailor-made, touring and river cruise market, having worked previously at Austravel, APT and most recently as sales manager UK and Europe at Topdeck Travel and Back-Roads Touring. He will focus on tour operators, agents and touring business.
Dale has previously worked in contracting at Trailfinders and Best At Travel. He spent the last four years as head of purchasing Americas and Caribbean at dnata.
Oliver Lomas, director and founder at inspiremyholiday.com, said: "While the whole travel industry has endured an incredibly difficult few months, there is no doubt that there will be a huge pent-up demand for holidays in the months to come.
"Every holiday business should be looking at the way it acquires new customers, and that is where slick players such as inspiremyholiday.com can help, whatever your budget is.
"We target consumers who are undecided on their destination and using a simple and effective search engine we enable the consumer to qualify themselves and link off to our partners driving truly incremental sales to our partners."
"Adding Tom and Lockie to the team will allow us to build our presence in the market at a much faster rate and become the go-to site for holidaymakers seeking the perfect holiday destination for them."
Lomas added he is optimistic of further investment in inspiremyholiday.com after the business conducted a poll of over 3,000 UK consumers to discover their future holiday intentions.
While the domestic market came out on top (17%), the majority of Brits said they would head to European destinations (47%). Top choices were Spain (9%), Italy (8.3%), Greece (5.3%) and France (3.3%).
Meanwhile, North America continued to be the favourite long-haul choice, with 11% opting for the US or Canada as their next trip.
Founded in 2019, inspiremyholiday.com is a new inspiration-based search engine that aims to attract consumers at the earliest stages of planning a trip.