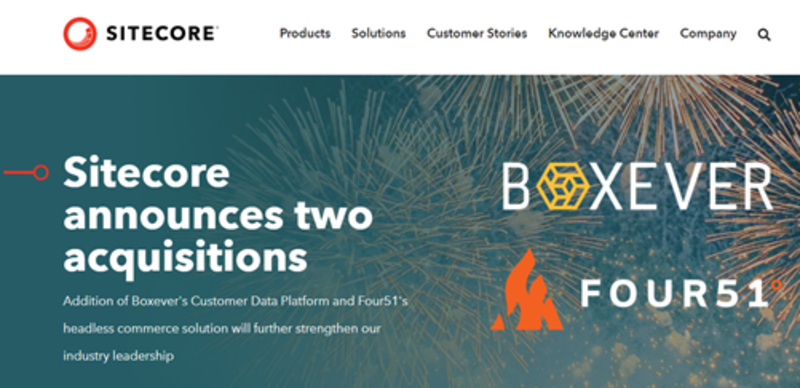 Sitecore announces double acquisition of Boxever and Four51
Deals struck to develop a flexible and modern Digital Experience Platform
Global e-commerce software firm Sitecore has announced it has secured a deal to acquire customer data platform Boxever.
Sitecore has also revealed it has struck an agreement to buy Four51 which specialises in B2B and B2C experiences for enterprise brands.
Both Sitecore and Dublin-based Boxever have extensive clients in the travel sector.
No financial terms of the acquisitions, which are expected to close before the end of this months, were disclosed.
On completion, the chief executives from both will take on leadership roles and Sitecore expects to invest and grow both Boxever's Dublin and Four51's Minneapolis headquarters.
The acquisitions come after Sitecore unveiled a $1.2 billion investment plan to fund aggressive growth plans and product innovation earlier this year.
The firm said the pandemic has "highlighted the need for a flexible and modern Digital Experience Platform (DXP) to provide organisations with the agility and intelligence to keep pace with changing demands".
Boxever and Four51 systems will be integrated with Sitecore's digital marketing suite of software products.
The company said this will "disrupt the industry by offering the first modern, integrated content-to-commerce, SaaS-based DXP".
Steve Tzikakis, chief executive of Sitecore, said: "Our mission is to disrupt the digital experience market and these acquisitions will extend our leadership position.
"Sitecore's innovative digital experience platform spanning content-to-commerce provides companies with the flexibility and agility necessary to keep pace with changing demands ensuring they seize the digital opportunity to strengthen consumer connections.
"We're thrilled to welcome the Boxever and Four51 teams to Sitecore and together, we'll shape the future of digital engagement."
David O'Flanagan, Boxever chief executive added: "Joining forces with Sitecore creates a disruptive proposition that will redefine what's possible for the industry, enabling organisations of all sizes to create seamless, data driven experiences in any channel.
"We're proud of what we've accomplished at Boxever through the contribution of our employees and partners, and we're looking forward to this next chapter."
"We share a vision with Sitecore to help our customers succeed in a digital-first world.
"Our employees and partners have worked tirelessly to provide organizations with a seamless, future-proof way to deliver innovative e-commerce experiences that help brands seize the digital opportunity – and this next stage is a testament to our focus on excellence," said Mark Johnson, chief executive of Four51.