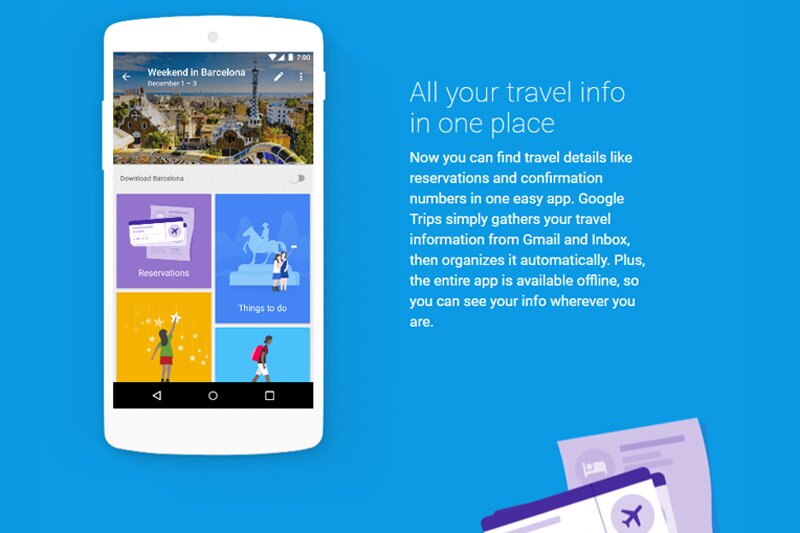 Google to close its mobile Trips app in August
Further move towards search giant bringing its travel services under single google.com/travel url
Google has announced that its Trips app will close at the beginning of August although many of its features will live on in its search and Maps products.
In a message placed online the search giant said support for Trips will end on August 5 after which time users will no longer be able to use the app.
Google told users that they will soon be able to find their notes from Trips in its new consolidated offering Google Travel.
Users will also be able to add or edit notes at the bottom of upcoming and past trips.
To find personal Trips information in search, such as notes and saved places, users were told they must sign into their Google account.
In the Google Maps app users will be able to find things to do in a destination, like iconic places, city guide lists, events, or restaurants.
They can also use the "Explore" tab or search for a destination and browse their saved places.
In addition, they will also be able to manage their upcoming reservations by trip as they currently are able to do in the Trips app.
The closure of Google Trips is a further move towards the search giant bringing together all of its travel services under the single google.com/travel url.
The Recent Phocuswright Europe conference in Amsterdam heard from Thijs Van As, lead product manager at Google, about the firms' strategy in travel.
Although he did not hint at the imminent closure of the Trips app after only three years, he set out how the search giant sees its role evolving in the sector.
"A lot of people spend a tonne of time dreaming about their upcoming travel and also spend a lot of time saving up.
"All this time and energy causes excitement but also a lot of stress and anxiety. People are trying to figure out what they are going to do and there are many hurdles in the travel planning process.
"Add to that the rise in mobile and information is accessible as everyone has a smartphone in their pocket.
"For lots of travel companies, this has resulted in new opportunities to connect with users and engage with new kinds of services.
"What's important is we keep the traveller and their needs at the centre of all we do. People come to Google when their travel journey begins.
"People do this over the course of a couple of weeks before locking down their travel plans. They want this information to build up confidence on their final decisions."
Van As added Google has seen trends of increased searches for travel queries and queries for "things to do around me" have increased by six times over the last two years.
"The core of our business has always been user trust, high levels of functionality, and a high degree of data quality.
"It's been our travel mission to be the most trusted place that people can go to get the useful information they need to make the right decisions for planning their trips.
"We are working very hard to create rich experiences so people get all the information they need.
"Our goal is to identify the moment of intent so we can connect our partners with our users."
Van As's address to the Phocuswright event came shortly after Google announced the consolidation of its travel products like Hotel Ads and Flights metasearch under Google Travel.
He said this was being done so consumers can make comparisons between verified and accurate datasets and so that the service supports them "across the full journey".
"On average people spend five to six weeks between starting to look and the moment they end up booking.
"During those weeks people are using multiple devices and multiple products and coming back over and again to refine their search.
"We want to help people in all of these moments so they can easily pick up their journey. We want to help people to organise trips in a trip-centred way.
"It's not just a flight or hotel your are planning activities and all the things that go hand in hand.
"We believe by focusing on those things we can deliver value for users by bringing transparency and delightful experiences and at the same time connecting our partners who provide these services at the moment users express their intent."