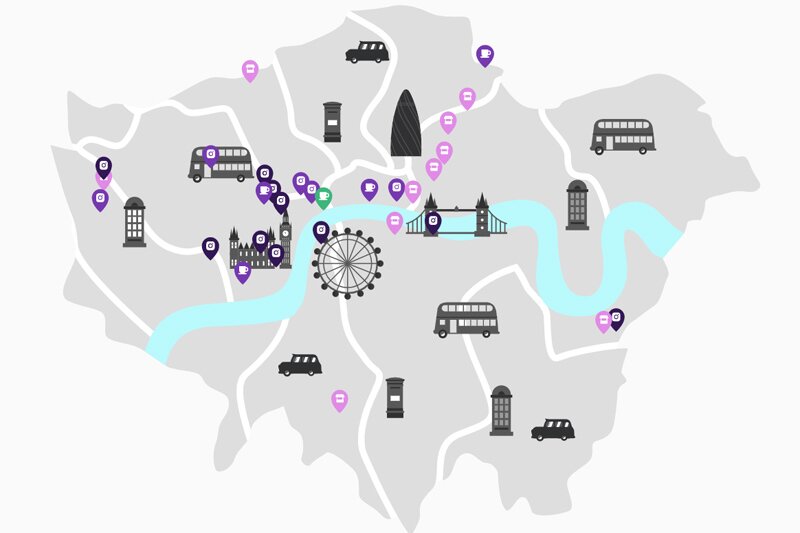 Fashion retailer launches interactive London map of bloggers' best places to visit
SilkFred reveals fashion bloggers favourite places to visit
An interactive London map from fashion retailer SilkFred has revealed fashion bloggers picks of the best places to go in the city.
The three categories, landmarks, markets and cafes, were compiled into a list of 30 top locations to visit.
The top five 'prettiest places' were chosen by a number of bloggers. The remaining 25 places were analysed by TripAdvisor as the top reviewed locations and metrics such as hashtags and cost of entry were studied on social media.
On social media, the London Eye ranked as the first-place landmark with over 2.5 million posts of the location on Instagram. Tower Bridge comes in second with 1.9 million posts and Italian Gardens, Hyde Park follows closely afterward. Harrods and Greenwich come in fourth and fifth place.
The SilkFred study found that Brick Lane Market and Peggy Porschen are the fashion bloggers' favourite market and café. Brick Lane Market has over 870,000 posts on Instagram featuring street food, performances by street artists and shopping stalls.
The bloggers chose Peggy Porschen, with locations in Belgravia and Chelsea, for the baby pink exterior and cupcakes from the bakery, which has over 55,600 hashtags on social media.
Emma Watkinson, Silkfred founder and chief executive officer, said: "Blogger culture has seen a huge rise in recent years, and many of us can profess to following our favourite influencers movements by keeping up with them on Instagram or YouTube.
"Our Influencer Map of London is a great tool as it allows us to swiftly check out a landmark, market or cafe and what we can expect to see when we get there.
"It's exciting to see that lesser-known locations such as Palm Vaults and Columbia Road Flower Market are loved by fashion bloggers just as much as Tower Bridge or Piccadilly Circus."
SilkFred online platform supports independent fashion for a low-cost and features clothing for weddings, christenings, the races and more. The team is made up of 80% women and 70% of the brands sold are women-run.