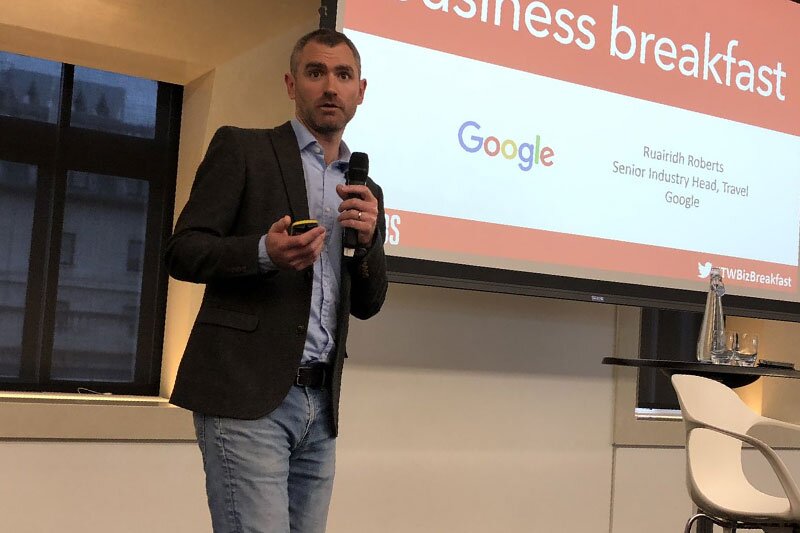 Google urges travel firms to move up the search maturity curve
Search giant recommends how to become more efficient in wake of downturn
Google urged travel firms to move their approach to marketing up the search maturity curve to become more efficient.
Speaking to a Travel Weekly business breakfast today, Ruairidh Roberts, senior industry head at the search giant, presented data showing a fall off in query growth from February 22.
This coincided with the corona virus taking hold in Italy and there were sharp declines for queries for Holidays, Air, Hotel and Cruise.
A similar analysis for the major UK outbound destinations revealed a similar drop off for Spain, the US, Italy, France, and Germany.
Roberts said Google had seen a "fairly regular" pattern of queries from the beginning of December with spikes associated with turn-of-year campaigns and the release of promotional offers.
"February twenty second was the day that queries changed," he said. "For every single travel category there has been a drop off in demand.
"Holidays was the starkest followed by hotels, there was a little up-rise in air but that was most likely to be people checking if they flight was cancelled. Not queries you want to monetise."
Destination query trends also were "pretty normal" through to February 22. Since then Italy has seen the biggest drop, but all core ex-UK destinations have been hit "irrespective of news stories" related to those countries.
"There's not massive panic, but there was a reaction," said Roberts who emphasized the Google data trends do not prove causality  to the coronavirus outbreak.
"I think it's more important now than ever to consider how you channel your marketing spend and be conservative but not necessarily as conservative as you could be.
"Even though there is a drop off in queries there's still a significant there is demand out there but how do you weed out the profitable demand versus the digital activity related to people finding out what's going on?"
Roberts urged firms to change their search strategy to move along the maturity curve for efficiency.
This involves firms becoming more sophisticated in five areas: Automation, Attribution, Data Mining, Audiences and Creative Excellence.
In each of these areas Google rates firms as either Nascent, Emerging, Connected or Multi-Moment with the latter of these approaches being more efficient and effective.
A firm that is nascent in automation is doing manual bidding on search terms, but a Multi-Moment firm is using machine learning algorithm-based bidding to automate search campaigns, target better and drive return on investment.
Other more efficient ways of using Google includes integrating more internal business and first and third party data, and using more sophisticated audience targeting tools and techniques and creatives.
Roberts said a 2017 study by Google found most businesses in the UK were still in the nascent or emerging stage and he claimed "it has not changed dramatically since".
"There has not been a massive shift to Multi-Moment," he said. "If we think about how you can differentiate product and make the most of the situation, do consider how you may be able to move left to right from a maturity point of view."