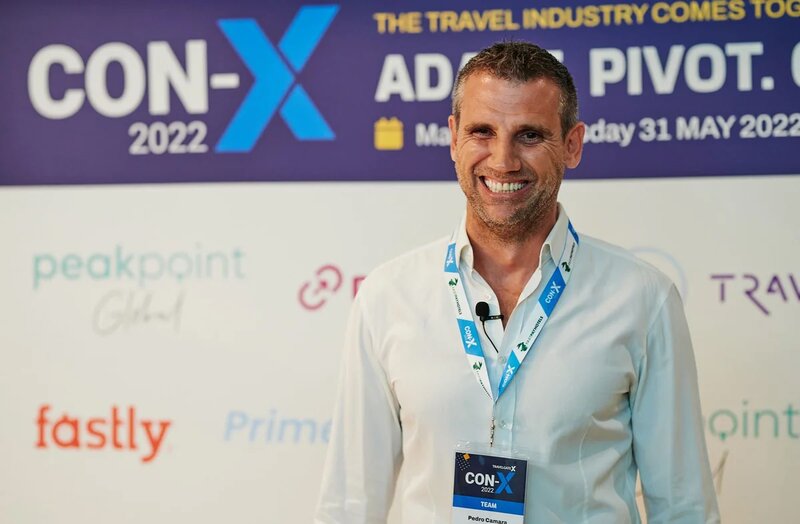 Con-X 2022: TravelgateX signals end of 'free love' era of travel distribution
Machine learning deployed to direct requests to more relevant supplier to reduce costs and improve efficiency
TravelgateX is placing a focus on making distribution more efficient and seamless for buyers and suppliers to integrate in their marketplace.
The Majorca-based API connectivity specialist is emerging from the COVID pandemic placing a focus on addressing computing costs and integrating more directly contracted product.
Speaking to Travolution at last week's Con-X conference, founder and chief executive Pedro Camara, said all "future bet" projects were put on hold during COVID.
But as the pandemic has receded the firm focussed on automation and processes starting with optimising traffic with a more sustainable matching of requests to the right partners.
Camara described the situation before COVID as like "the years of free love" with every supplier and distributor buying inventory from each other.
"Everyone got together with everyone, and it was really good for us because we were providing the space so that everyone could
meet with each other and connect.
"That created a lot of volume, but it was very expensive. The biggest cost for us after people is servers. It was very inefficient."
Camara said this meant a single room search could generate hundreds of requests for multiple suppliers all distributing each other's product.
It even led to some suppliers unable to identify bookings of their own contracted rooms from a reseller in the chain and assuming it was a duplicate booking.
In order to reduce the volume of calls on its cloud-based servers, TravelgateX has developed machine learning technology to determine suppliers most likely to make each sale.
The request will then only be placed with them. Camara said: "We are trying to optimise look-to-book without making a dent on the number of bookings.
"We want to maintain the same amount of bookings with less traffic. So we analyse the traffic from all clients and try to make an educated guess which supplier has the best product to meet the need."
Alongside this move towards a more optimised distribution process, TravelgateX is also responding to a greater focus from OTAs and retailers on directly contracted product.
Luisa Camara, head of strategy at TravelgateX, said the firm has unified its technology into more of a Software-as-as-Service platform to make it easier for partners to integrate.
She said the biggest focus this year is on making it an "easy marketplace to join" and this will bring in a long-tail of smaller niche
suppliers and DMCs.
"We are looking for more suppliers to fill holes," she said. "The value nowadays is in exclusive direct product.
"We have the technology to allow smaller DMCs to connect and give buyers access to product they currently do not have instead of contractors going around in person."
Luisa said this was democratising travel by allowing the smaller niche suppliers to be distributed alongside the well-established big wholesalers and channel managers.
And while TravelgateX has established itself in the distribution of hotel room it could be applied to other travel product where data can be standardised for API integrations.
TravelgateX has formed a partnership with B2B ancilaries consolidator Servantrip, which is headed up by Javier Arévalo, formerly managing director of Hotelbeds' Beyond the Bed.
This has seen it launch a hotel plus transfer service where a ground transportation option is suggested for hotel requests and the customer can either choose to include it or not.
An extension of this to offer activities and experiences supplied by Servantrip is also in development and expected to go live in three months.
As travel recovers from the COVID pandemic TravelgateX is promoting its expertise as a technology and business consultant to its partners.
It will draw up plans with partners for business and software development and will work with them on building the technology and integrations they need inhouse or outsourced.
Clients' existing or new third party technology partners can also be integrated into the marketplace as an app.
Luisa said TravelgateX wants to offer more value to its partners. "If I can save you development effort you are going to be able to focus on growing your business."