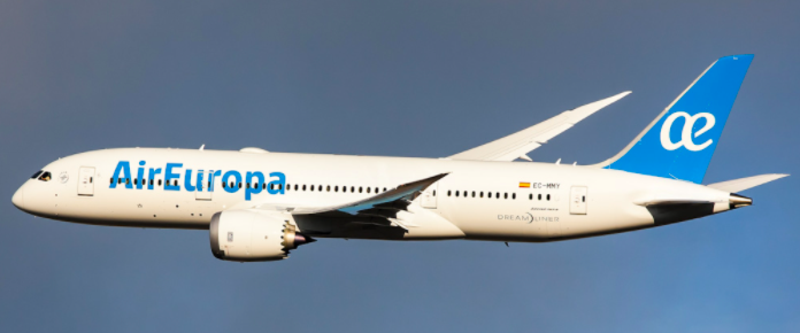 Air Europa implements latest version of Amadeus's Traveller ID
System will improve health and identity documentation check-in and boarding process while reducing queues
by Kaia Hicks
Air Europa has moved to the latest version of Amadeus Traveller ID to improve passenger check-in and boarding.
When checking in online, Air Europa passengers can now validate the mandatory health documentation required by the country to which they are travelling.
This is the latest feature from Amadeus' Traveller ID, implemented by the airline to decrease document checks and queues.
The update allows the passenger to verify, when checking in through the airline's website or app, their vaccination certificate, the PCR or Antigen results and the Passenger Locator Form, depending on documentation required by the destination country.
In addition, passengers can provide the documentation in the format they choose, be it digitally, by scanning the QR code, or by sharing a photo of the physical document.
Passengers still need to carry the documentation stored on their device or in a printed format in case it is required at any other time during the trip.
Oscar Riolobos, web business manager for Air Europa, said: "Our greatest commitment is the safety of our passengers, and under this maxim, we work to improve their flight experience.
"It is a priority for Air Europa that the customer feels calm and safe when catching a plane.
"The collaboration and partnership with Amadeus bring great value to our passengers who achieve greater security, efficiency and comfort through this digital solution."
Christian Warneck, vice president of Safe Travel Ecosystem at Amadeus, adds: "It is a great pleasure to collaborate with Air Europa and see the benefits of our innovative Traveler ID technology in place on all of the airline's routes.
"Our goal with Safe Travel is to facilitate safer, more comfortable and efficient trips, despite the additional document checks.
"Another benefit that we provide, through our partner Riskline, is that each route is analysed and updated daily with the latest measures so that passengers are only asked for the documents necessary for that specific trip.
"This work in the back-end reduces the work and time required from our airline customers in today's changing environment."