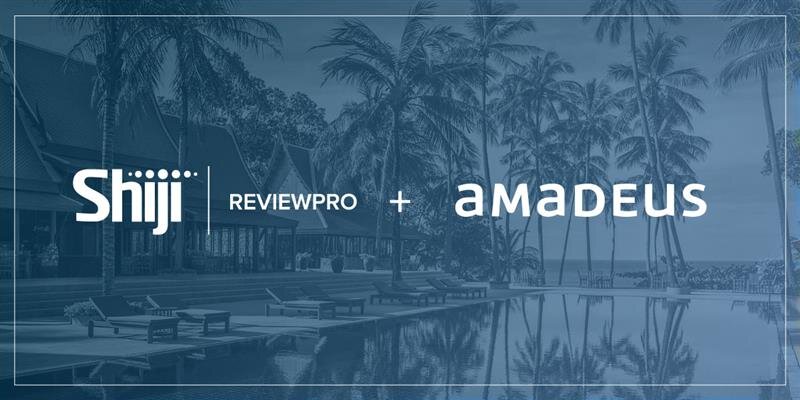 Shiji and Amadeus chatbot integration bridges gap between research and booking
Users of the ReviewPro Guest Communications solution will be seamlessly routed to booking technology developed by the GDS
Hospitality solutions specialist Shiji and Amadeus have completed an artificial intelligence chatbot integration to bridge the gap between researching for information and booking.
The tie-up will see uses of the Shiji ReviewPro Guest Communications and Amadeus' iHotelier Booking Engine or HotSOS Service Optimization solutions served by the chatbot.
Users who interact with the Shiji ReviewPro chatbot while researching will be routed directly into the booking flow.
Once the customer has filled in their details and is ready to book, they are redirected to the iHotelier Booking Engine page to complete the transaction.
All results shown on the Amadeus booking page are filtered by guest details collected in the chat and booking is simply a matter of picking the right products and paying.
Peter Waters, Amadeus executive vice president of hotel IT solutions, hospitality, said: "This new partnership with Shiji reinforces our strategic objective to provide seamless solutions that meet the growing demand for technology-driven guest personalization.
"By incorporating guest messaging into the booking process, guests can easily and efficiently receive more personalized offers and shopping experiences, while hoteliers can add additional value to their direct booking channel."
Shiji ReviewPro also integrates with Amadeus' industry leading Service Optimization solution, HotSOS. The two-way connection offers common clients full visibility of guest feedback management updated in real-time on both platforms. Tasks coming in from reviews, surveys, messaging conversations or other updates appear directly in the HotSOS solution as well as the Shiji ReviewPro platform, enabling prompt resolution for guests, and a better view of staff performance.
"As hoteliers are relying more and more on the efficiencies of their tech stack, it is becoming increasingly important for tech providers to make the digitization of the guest journey as easy and frictionless as possible.
Michael Kessler, chief executive of Shiji Guest Solutions, said: "We are happy to be able to partner with industry leaders like Amadeus and synch our efforts to help hoteliers become more efficient, generate more revenue, and better serve their guests."