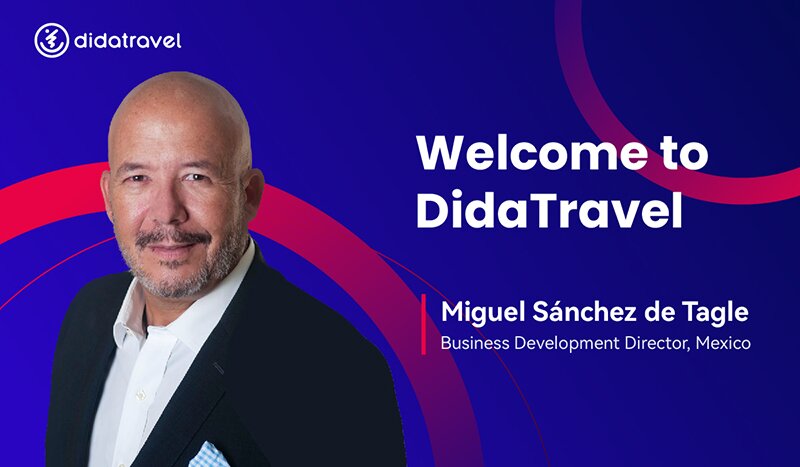 DidaTravel strengthens Mexico presence with appointment of Miguel Sánchez de Tagle
With over 20 years of industry experience, Sánchez de Tagle joins from HotelDO
DidaTravel has announced that Miguel Sánchez de Tagle has joined the business as director of business development for Mexico.

The appointment aims to both strengthen its position in the market and grow the company's global position as an accommodation distributor.
In this newly created role, Sánchez de Tagle will report to Germán Perez, VP for business development in the Americas to further grow DidaTravel's current base of over 30,000 B2B buyers – including travel agents, tour operators, OTAs, TMCs and MICE – that already provide over 50% of all sales globally from outside of the company's traditional APAC home.
As part of this Sánchez de Tagle will ensure that DidaTravel's portfolio around the world gain access to high-value, hard-to-reach and incremental bookings from Mexico, Latin America's most important outbound market.
Sánchez de Tagle has over 20 years of senior industry experience, joining from HotelDO and has also held senior commercial roles at Avianca Tours, Bedsonline, Groupon, Mexicana VTP, and Grupo Posadas. He is experienced in building highly effective commercial strategies that drive growth.
Germán Perez, VP Business Development for the Americas, said, "Miguel's relationships with all the stakeholders across the travel community in Mexico is beyond compare and we look forward to him taking our business to the next level in one of Latin America's most important markets."

Sánchez de Tagle adds, "There has been a long-standing and positive relationship for me with both DidaTravel and many of the senior team. It is very exciting for me to join at this important moment following the recovery of Mexico's outbound tourism market."