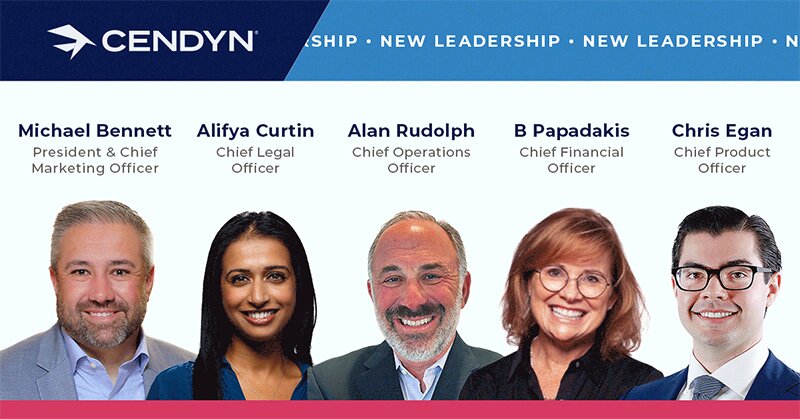 Cendyn announces senior leadership team expansion
Major expansion of senior leadership team follows appointment of Jack Blaha as chief executive
Cendyn has announced the appointment of four new executives to its management team, as well as one significant promotion.
The new personnel include chief financial officer B Papadakis, chief legal officer Alifya Curtin, chief product officer Chris Egan and chief operations officer Alan Rudolph.
Long-standing chief marketing officer Michael Bennett was also promoted to president and chief marketing officer, taking on further responsibilities within the company. Bennett brings more than 25 years of international hospitality management experience to the twofold roles of chief marketing officer and president at Cendyn. His specialties lie in global marketing, eCommerce, and digital implementations with an emphasis on profitable growth through an increase in customer lifetime value.
B Papdakis, the company's new chief finance officer, brings a wealth of experience to the role, having previously served in top-level financial positions across the global professional landscape. Her background in PE-backed growth and acquisitions, advanced multinational tax, debt and treasury management and facility with core professional tools is set to put Cendyn in its strongest fiscal position yet.
Alifya Curtin, Cendyn's newly appointed chief legal officer, brings over 20 years of legal experience to Cendyn, including experience in commercial law, M&A, intellectual property, data protection and privacy, employment law, corporate governance, and litigation.
Cendyn's new chief product officer Chris Egan will be responsible for product management and the company's product strategy. He brings extensive experience in enterprise software to Cendyn.
Alan Rudolph, Cendyn's recent chief operations officer appointment, has more than 25 years of experience across B2B enterprise SaaS, cloud computing, technology applications, and professional/managed services. His expertise is focused on aligning customer services, customer success, and operations, with an emphasis on product/offerings adoption, time to value, and customer satisfaction.
These appointments come on the heels of the recent naming of Cendyn chief executive Jack Blaha. Jack is an astute leader who brings extensive executive-level experience to Cendyn thanks to previous roles at several industry-leading technology companies.
"In many ways, 2023 is shaping up to be our strongest year ever as a company," said Blaha.
"I'm tremendously confident that the newest members of our executive team will offer strong leadership to the company as we navigate a course toward even greater levels of success."