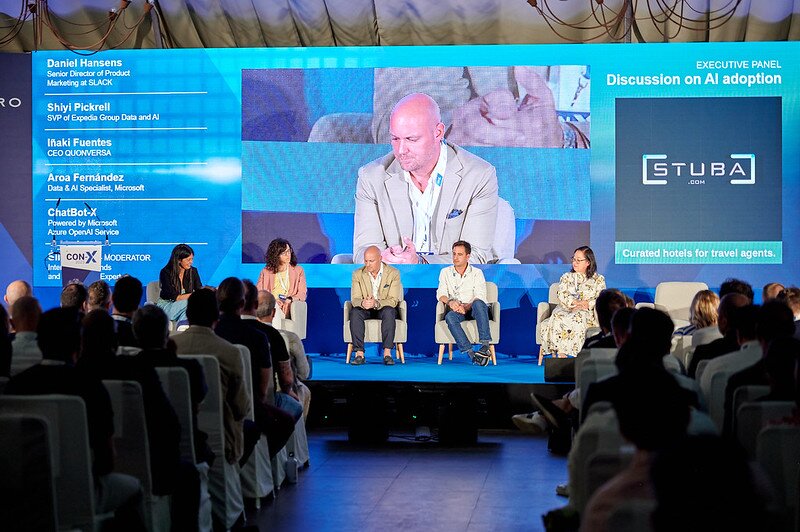 Con-X 2023: Expedia, Slack, and Quonversa use Generative AI in day-to-day jobs
A panel discussion on AI adoption at the conference revealed top companies utilising the emerging technology everyday
At Con-X's one-day conference last week, senior representatives discussed the ways they use generative AI in their workplace, lives and in industry.
In a panel sponsored by Stuba, panellists Shiya Pickrell, SVP for data and AI of Expedia Group, Daniel Hansens, senior director of product marketing of Slack, Iñaki Fuentes, CEO of Quonversa and Aroa Fernández, data and AI specialist of Microsoft, discussed AI adoption with moderator Silvia Leal, a technology expert. The panellists were joined by ChatBot-X, a chatbot powered by Microsoft Azure OpenAI Service.
They shared a number of ways they use generative AI personally, from curating fun bed-time stories to helping plan their holidays, before debating how they implement it professionally.
Fernandez, who utilises the technology to be more productive and efficient, as well as getting rid of repetitive tasks said: "there's lots of amazing things we can do," whereas Hansens uses it to summarise meetings and create a to-do list from the action points. Hansens said using the technology "speeds up the innovation cycle" for them. Since Slack launched the integration with OpenAI in March 2023 there has been 3,000 custom apps made with implementation specific to their use cases.
Fuentes on the other hand, uses it to make decisions quicker and to prioritise his tasks for the day as well as his inbox. Generative ai has helped "democratize non-technical folk," said Pickrell, meaning you no longer have to be technically capable to be able to programme or understand data, for instance. She said: "it has a lot of potential."
According to Pickrell, data is exploding but causing a lot of friction and finding the right data and understanding the data can be simplified by generative ai. She said she puts herself in the shoes of travel partners to be able to understand "how can this technology change their lives and make them more productive."
When asked, ChatBot-X said: "I think chatbots like me can make travelling better for individuals, explaining it has the potential to offer travellers good suggestions."