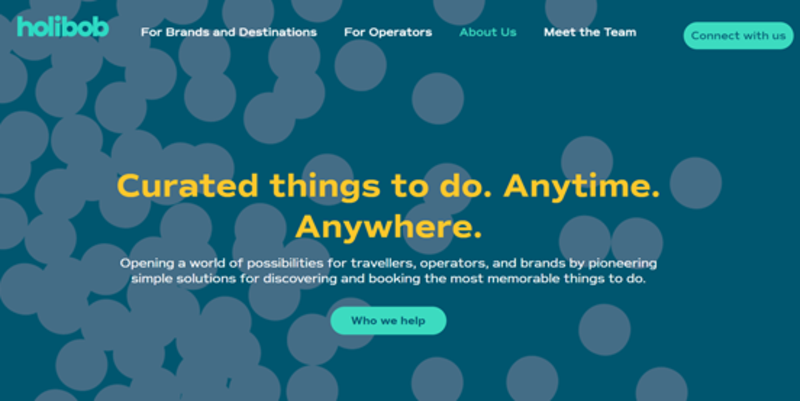 Holibob completes deal to acquire specialist marketing platform TourismSolved
The tours and activities start-up brings in experienced team to support growth
Start-up tours and activities online marketplace Holibob has completed a deal to acquire specialist content marketing platform TourismSolved.
The firms, which have been working with each other for over a year, said they will combine their expertise in the fast-growing sector to address challenges in curation and distribution.
The TourismSolved leadership team has more than 40 years of combined industry experience at Viator and Tripadvisor Experiences.
Craig Everett, co-founder and chief executive of Holibob, said: "As we partnered with the TourismSolved team over the past half year, it became increasingly clear that their experience and passion for solving hard problems would make them a great addition to our team.
"This is a big step forward in our mission of enriching travellers' lives by simplifying the discovery and booking of experiences online, which has remained unnecessarily complicated and cumbersome for far too long."
Over the past two years, TourismSolved has worked with over 300 tours and attractions operators to improve their content, rebuild their websites, and drive growth with digital marketing campaigns.
Robin Harnish, co-founder and chief executive of TourismSolved, said: "When we started TourismSolved two years ago, we had a clear vision of using our industry expertise to help tour and attraction operators grow their businesses and increase profitability.
"As we spoke more with the Holibob team, we realised their technology and team would help us greatly expand the scope of our impact and accelerate our ability to transform the industry in ways that are crucial for both operators and experience seekers.
"We know that content is king in terms of driving effective product discovery and bookings - both for our distribution partners and directly for operators.
"We're excited to add our technical and creative expertise in that area and more to ensuring Holibob is uniquely able to deliver the right products to the right travellers at the right time."
TourismSolved will continue operating under Harnish who will become Holibob's chief operating officer overseeing operations and customer service as well as marketing and content.
Also joining from TourismSolved will be Jeff Lewis, former Viator chief technology officer, Andrew Aley, former Head of EMEA supply at Viator, and Michael Lattig, former head of brand marketing for Viator/Tripadvisor Experiences and former chief marketing officer of StubHub,
In addition, industry veteranvs Kate Cornell, former head of content for Viator/Tripadvisor Experiences, and Stephen Joyce, former chief executive of Rezgo, will move from their roles at TourismSolved.
Susan Mason, who has held marketing and operational roles at Dollar Rent a Car and Tripadvisor, will lead implementation for the company's marketing clients.
Everett added: "Across our business there's a keen focus on developing innovative solutions that truly improve the lives of both operators and their customers. By doing that in a way that is both human and effective, we will massively improve operators' businesses and move our industry into its next phase of growth."