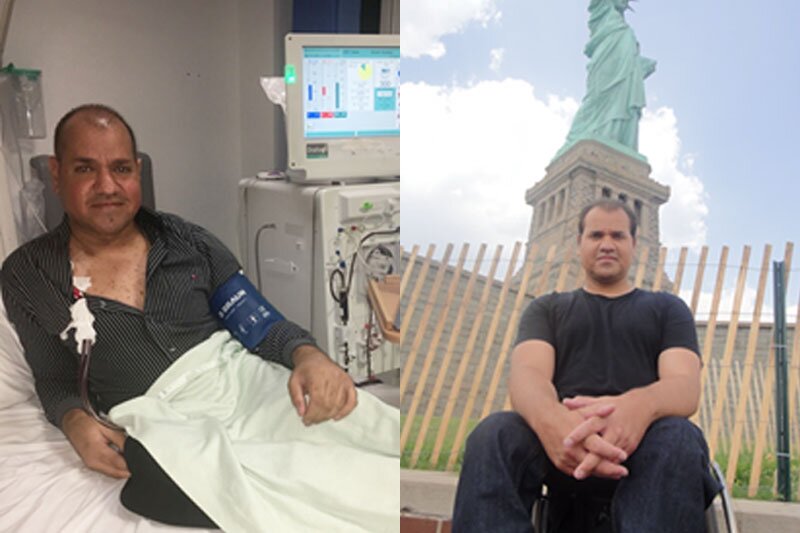 Company profile: CheapFlightsFinder.com – the meta of metas
London-based Shahab Siddiqui claims to offer the secret to finding cheapest flights online Continue reading →
The stories of how entrepreneurs start travel business often start with how they experienced the frustrations of the sector in real life and that sparked their idea.
The founders of metasearch site Skyscanner, OTA LoveHolidays, and recently launched secondary market for unwanted bookings TransferTravel all have such personal tales.
None, however have faced challenges like London-based Shahab Siddiqui, a travel mad web developer who runs CheapFlightsFinder.com, a meta for the metas that claims to offer the secret to finding the cheapest flights online.
Siddiqui was born with Spina Bifida and as a result has to use a wheelchair. But it was he was hit by kidney failure ten years ago that he found the cost of travelling went through the roof.
Despite needing dialysis three times a week, Siddiqui was determined not to give up his lifelong passion for travel and came up with a unique computer formula to source cheap airline fares across the world.
After making big savings on flight tickets to locations such as Malaysia, USA, Dubai and China, Shahab built a website to share his cheap flight finder formula with other travel lovers.
His site CheapFlightsFinder.com now facilitates around £6 million in ticket sales annually and claims to save customers, who originate mostly from the UK and USA, £2 million on flight tickets each year.
Siddiqui, who is now 41 years-of-age, manages the site full time earning a commission on all the flight sales he generates.
CheapFlightsFinder.com conducts searches on multiple search engines at the same time. Today he has integrations with KAYAK, Momondo, Skyscanner, Cheapflights, Hipmunk, and also links into Google Flights, DoHop and Jet Radar. Kiwi.com will be added shortly.
Siddiqui said all these partners see the advantage of allowing the client to come to one place to do a comprehensive search and find what they are looking for instead of being constantly acquired through Google.
He said this trend of appearing alongside rivals is becoming increasingly  accepted as adoption of advertising technologies from firms like Intent Media grows.
"A lot of metas have come on board because they have realised that rather than advertising on very broad keywords they can advertise to very high intent users on travel sites already looking for products," Siddiqui said.
CheapFlightsFinder.com offers a very flexible search so users do not have to stipulate their desired destination up front and can search for multiple cities to find the best combination of flights.
The site has been operational for a decade but Siddiqui's health has not been good enough to embark on a full promotional pus, until now.
"The consumer just wants the best price and the best flight and nothing is going to stop them from searching for that, so if we can make it easier for them that's what we're here to do," said Siddiqui.
A new map feature will be added soon so users can see nearby locations that are cheaper top fly to than their chosen destination.
Siddiqui said CheapFlightsFinder.com often uncovers error fares from airlines and allows the consumer to choose which third party agent they want to book through if they have a preference or would rather avoid some that individual metas push clients to with poor reputations.
Speaking about his battle to establish CheapFlightsFinder.com, he said: "I've never let my illness get in the way of my desire to see the world and have now visited more than 30 different countries including Malaysia, USA, Middle East, Dubai, China and Europe.
"I usually travel with friends or family, mostly with my younger brother Sameer who has always looked after me. He is my travel buddy and absolute rock.
"With careful research, most countries have been accommodating for my wheelchair needs. But since being diagnosed with kidney failure back in 2008, I had to extend my research into looking for private dialysis services.
"As my weekly dialysis sessions cost around £1,000 anywhere outside of the UK and Europe, I had to look for the cheapest flights and accommodation to cut the cost of my travelling otherwise it would be too much.
"The idea for CheapFlightsFinder.com came to me whilst I was receiving dialysis treatment in London. I wanted to provide a site for people like myself who needed to find cheap flights for their holidays as quickly as possible.
"Using my web-programming skills I built the first version of the site. This allows people to get the cheapest flights in a matter of seconds as each flight company searches a different selection of sources, and prices can vary by 20% across all the different sites.
"The formula is called meta-meta flight search and it's why CheapFlightsFinder.com is now the world's cheapest flight site, with each customer saving an average of £300 per sale.
"I want people who share a love for travel or just need to get away for that well-earned holiday to be able to get the best value for their money. The site has grown so much since its launch and now gets thousands of visits of organic traffic a day which is growing.
"If anyone is struggling with conditions like mine, I would say never let it get in the way of what you want to do and never give up pursuing your dreams. My determination to keep on seeing the world led me to start up my own business, a business that I hope inspires others to broaden their horizons using value travel."