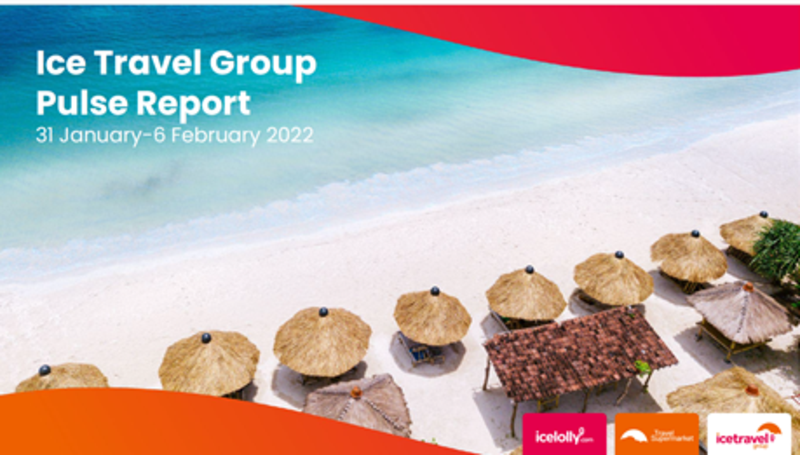 Ice Travel Group Pulse: Confidence to book holidays sustained
Increased interest in city breaks and near-term travel seen as positive signs
Search spikes for June on icelolly.com and TravelSupermarket and increased interest in city breaks last week were seen as further signs of the travel sector rebounding.
The sister holiday price comparison sites, now under parent the Ice Travel Group following their merger, revealed their latest trends in the weekly Pulse tracker.
Both sites saw search share for June departures increase the most in the week to February 6, although April, March and May all retained their popularity.
On TravelSupermarket, April leapt to number one spot, leapfrogging both February and March while on icelolly.com reported May June and March as the most the searched for dates.
In terms of destination searches, on icelolly.com the biggest changes were outside the top 10, where search share for city breaks increased, in particular for Paris, Krakow and Dublin.
Meanwhile, on TravelSupermarket, there were big share gains Spain's Costas – with Costa del Sol and Costa Blanca leading the way.
Winter 2021 bookings increased share on icelolly.com, driven by interest in Tenerife, Lanzarote and Gran Canaria.
Majorca and Costa Blanca joined Tenerife were among the most-booked for summer 2022.
On TravelSupermarket, there was a small shift away from summer 2022 and towards nearer-term bookings. On both sites Summer 2022 accounted for more than 60% of bookings.
Chris Webber, head of holidays and deals at Ice Travel Group, said:  "The confidence to book a holiday is sustaining, with another strong week of both searches and bookings across both icelolly.com and TravelSupermarket.
"There was an increased interest in city breaks, which could be a sign that people are thinking beyond just getting the summer holiday in the calendar and are looking at getting a city break booked, too.
"The Canary Islands remain very popular, despite the recent changes to entry requirements for Spanish destinations. Nearer-term bookings (for travel before the end of March) increased share this week."