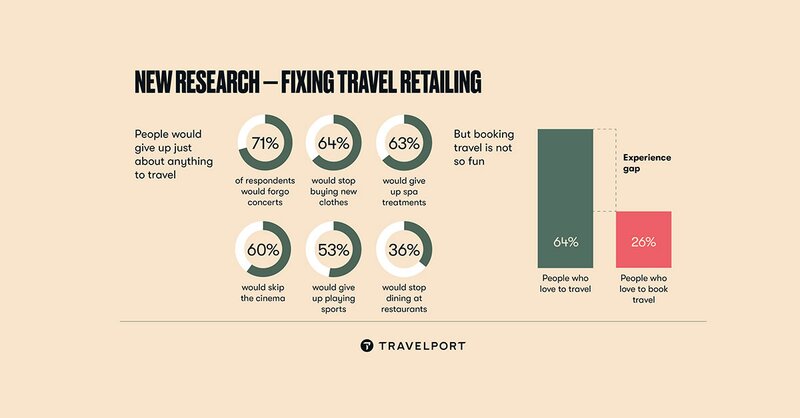 Future of Travel Retail: Bridging the experiential gap in travel retailing
Travelport chief marketing officer Jen Catto addressed this week's event in Dubai
An 'experiential gap' between how much people enjoy travelling versus the booking of it has revealed how far the sector is behind other areas of online retailing.
A consumer survey for Travelport found that while people would give up many other aspects of life to travel and 64% say they love to travel only 26% love booking it.
Travelport's Future of Travel Retailing conference in Dubai this week was told by chief marketing officer Jen Catto that it is time travel retail "felt like the internet".
"Travel retail is an emotional experience because travel is an emotional experience," Catto said.
"Travel does not begin the moment you get on a plane, it starts at the moment you decide where to go and that begins with having to book.
"At Travelport, we are driven by our mission to deliver modern retail capabilities…enabling our customers to sell travel better, faster and with more innovation."
Catto cited how electric car manufacturer Tesla has turned vehicle retailing on its head by having showrooms rather than sales-driven dealerships enabling customers to buy online.
And in the banking sector, disruptors like Revolut forced the hand of traditional banks which created Zelle taking a lot of the pain and hidden fees away from customers, she said.
"We really need to innovate together. If banking can do it, surely we can," Catto told an audience of around 100 of Travelport's top industry partners.
She added: "The thing about good digital experiences is they just work. How do we get travel retailing to work just like the internet in the way consumers expect it to?"
As well as rolling out its next-gen travel retail tech platform Travelport+, the Global Distribution System and technology developer intends to help agents tailor their offers to their customers' needs using data collected about them.
Travelport+ will assist with this using Artificial Intelligence and what is known about the customer instead of the "old model" of throwing as much data in front of agents as possible and expecting them to use their expertise to filter it.
Catto said Travelport plans to modernise travel's outdated processes. She picked PNRs – Passenger Name Record database entries – as an example. "Is there anything more antiquated than pushing files round the internet that only one source can work on at any one time?" she said.
"We plan to reinvent PNRs to help manage change must faster and to allow multiple parties to manage a change at the same time and distribute travel data closer to the end consumer making processes faster and cheaper and to enable a modern user experience.
"This is not eliminating competition, but it's competing where it matters most - actually listening to the end traveller. Retailers should be curating and optimising for their needs, not just on price, and then compete on what matters most – their customers' satisfaction."