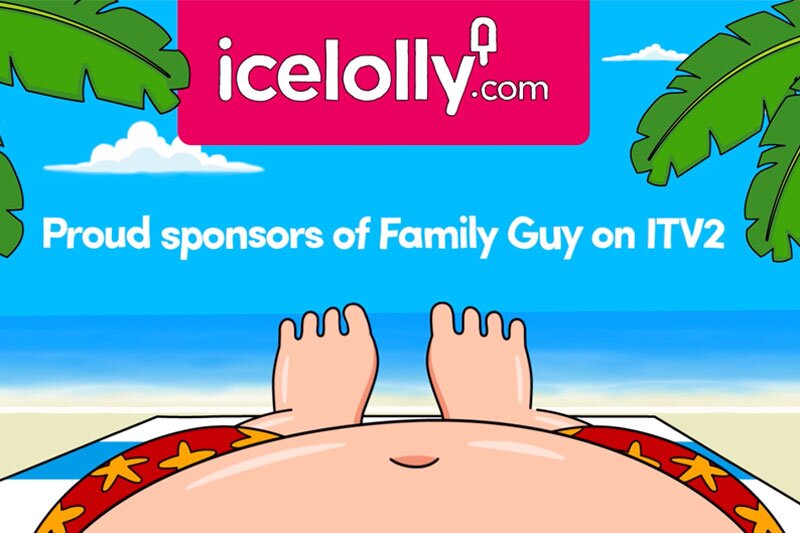 Icelolly.com set to kick off Family Guy and American Dad sponsorship on ITV2
Partnership follows launch of 'Do It for the Stories' campaign
The next phase of holiday price comparison and deals site icelolly.com's partnership with ITV is et to kick off with the sponsorship of both Family Guy and American Dad on ITV2 today (February 14).
The partnership with ITV follows the launch of icelolly.com's new advertising campaign 'Do It for the Stories' featuring a variety of advertisements airing across the ITV network since its launch during James Bond: Quantum of Solace on Boxing Day 2018. A channel-wide sponsorship of ITV3 afternoons also launched in early January.
Icelolly.com-branded sponsorship has been developed for the Seth MacFarlane comedies with an artist tasked with designing a creative HD animation style to complement the shows.
A point-of-view style was chosen for the bespoke creative to help mimic the over 70 percent of icelolly.com users who visit the holiday deals website via their mobile device.
The Family Guy ident features a central character suffering a series of holiday mishaps before eventually finding the right deal with icelolly.com and relaxing on the beach. Whether surfing, on safari or visiting the world's most iconic sites, the creative has kept the same style of animation and humour.
With a similar focus on humour and fun, the American Dad ad follows a spy-like character travelling the world to visit a series of "target" destinations on a mission to find the best holiday hotspots and create recommendations for icelolly.com's audience.
Ross Matthews, chief marketing officer of icelolly.com, commented: "Everyone at icelolly.com is very excited about the launch of the new sponsorships – we've a young team and all of us are fans of Family Guy and American Dad.
"I've honestly never laughed so much in brainstorming the creative ideas for these hilarious shows.  It's been a huge amount of fun to develop, and I think we've achieved the right balance of complementing the programme content whilst showcasing icelolly.com as the leading holiday search and travel deals brand in the UK right now.
"Most importantly, we've now the most comprehensive brand-driven marketing plan in our history, incorporating broadcast TV advertising, sponsorship and VOD underpinned by an extremely efficient digital marketing framework.
"The last year has seen us cement our position as the UK's fastest growing holiday search and travel deals site. Our 'Do It for the Stories' campaign, centred around our customers' experiences, is really gaining traction now, and we're seeing new audience growth every week as we head into 2019."
Sponsorship creative was developed in collaboration with Leeds-based production house VTR North.